For Registered Dental Hygienists and UH Manoa Bachelor of Science Dental Hygiene Graduates
Program Description
The Advanced Professional Certificate for Expanded Function Dental Hygiene in Pediatrics Program (EFDH Certificate Program) is a specialized professional Dental Hygiene Program that builds upon the knowledge and clinical experiences of Registered Dental Hygienists in the State of Hawaii and graduates of the UH Manoa Dental Hygiene Bachelor of Science Program. The EFDH Certificate Program enhances and expands the knowledge and skills of licensed dental hygienists who care for pediatric dental hygiene patients.
The EFDH Certificate Program is open to Registered Dental Hygienists and graduates from the UH Manoa Bachelor of Science Dental Hygiene Program. Students accepted into the program must pass their State and National dental hygiene board certifications prior to entering the fall semester classes. It is highly recommended that students talk to a program contact before graduation to discuss the program. Registered Dental Hygienists may also apply to the program and will be admitted on a space available basis.
Fast Facts
Outstanding faculty committed to advancing health care delivery.
Full-time program completion in 2 semesters.
Program includes 360 hours of hands-on pediatric clinical hours in community settings.
Individual academic advising and support throughout the program.
Tuition support for qualified applicants.
Program Outcomes
The graduate of the EFDH program is prepared to:
perform health assessments to include medical history, dental history, weight, height and BMI
provide oral health and nutritional education to children and families
understand the growth and development of children in relationship to their oral health needs
gain advanced skills and dental hygiene training working with children and families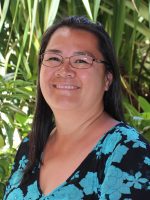 Kristine Osada, RDH, BSDH, MEd
Dental Hygiene Department Chair & Instructor
---
Contact for applicants to the High School Direct Entry in Dental Hygiene (HS-DEDH) program and Bachelors of Science in dental hygiene program. Also, contact for enrolled dental hygiene students.
School of Nursing and Dental Hygiene
University of Hawaii at Manoa
2445 Campus Road, Hemenway Hall 200-B
Honolulu, Hawaii 96822
Phone: (808) 956-8821
Fax: (808) 956-5707
Email: kmsato@hawaii.edu