Notice – 10/25/2021
Effective fall 2021 and until further notice, we are not accepting applications for admission to this program.
---
For Registered Dental Hygienists and UH Manoa Bachelor of Science Dental Hygiene Graduates
Program Description
The Nancy Atmospera-Walch School of Nursing offers Registered Dental Hygienist (RDH) and graduates from the UH BS Dental Hygiene Program the opportunity to expand their knowledge, improve oral health outcomes for children, and develop clinical skills in pediatrics with a focus on children 0-5 years of age.
The Advanced Professional Certificate for Expanded Function Dental Hygiene (EFDH) in Pediatrics program is a cohort-model designed to be completed in 9 months of full-time study. Didactic courses will be delivered in an online platform. Clinical experiences focus on providing hands-on oral care to keiki in the community using standard office dental equipment as well as mobile dental equipment in various community settings across the state. EFDH graduates will have a competitive advantage for employment in pediatric dental practices, school-based health centers, and other non-traditional sites.
The UHM dental hygiene program is the only baccalaureate level program in the state. It offers the educational preparation required of dental hygienists to provide oral health care and education to the people of Hawaii, the continental U.S., and the Pacific-Asia region. The dental hygiene program is accredited by the Commission on Dental Accreditation.
Students complete 405 clinical hours (360 clinical + 45 fieldwork) providing direct pediatric care in various community settings. Due to the rigor and scheduling of the program, we advise students to limit their employment during the program.
The EFDH program is open to Registered Dental Hygienists and graduates from the UH Manoa Bachelor of Science Dental Hygiene Program. Students accepted into the program must pass their state and national dental hygiene board certifications prior to starting the fall semester classes. It is highly recommended that graduating students talk to the program contacts before graduation to discuss the program. Registered Dental Hygienist may also apply to the program and will be admitted on a space available basis.
Tuition is charged at the UH Manoa undergraduate rate. There are no fees or supply costs for the program. The program provides a tuition scholarship to students who meet certain eligibility requirements.
Fast Facts
Outstanding faculty committed to advancing health care delivery.
Full-time program completion in 2 semesters.
Program includes 405 clinical hours (360 clinical + 45 fieldwork) of hands-on pediatric clinical hours in community settings.
Individual academic advising and support throughout the program.
Tuition support for qualified applicants.
Program Outcomes
The graduate of the EFDH program is prepared to:
perform health assessments to include medical history, dental history, weight, height and BMI
provide oral health and nutritional education to children and families
understand the growth and development of children in relationship to their oral health needs
gain advanced skills and dental hygiene training working with children and families
Contact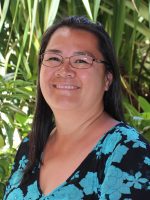 Kristine Osada, MEd, BSDH, RDH
Dental Hygiene Program Administrator & Instructor
---
Contact for applicants to the High School Direct Entry in Dental Hygiene (HS-DEDH) program and Bachelors of Science in dental hygiene program. Also, contact for enrolled dental hygiene students.
Department of Dental Hygiene
Nancy Atmospera-Walch School of Nursing
University of Hawaii at Manoa
2445 Campus Road, Hemenway Hall 200-B
Honolulu, Hawaii 96822
Phone: (808) 956-8821
Fax: (808) 956-5707
Email: kmsato@hawaii.edu
This project is supported by the Health Resources and Services Administration (HRSA) of the U.S. Department of Health and Human Services (HHS) under grant number D85HP30832, Pre-doctoral Training in General, Pediatric, and Public Health Dentistry and Dental Hygiene. This information or content and conclusions are those of the authors and should not be construed as the official position or policy of, nor should any endorsements be inferred by, HRSA, HHS or the U.S. Government.