Carmen Heidi Linhares, PhD, CNM, APRN-Rx
Assistant Professor
Nancy Atmospera-Walch School of Nursing
University of Hawaii at Manoa
2528 McCarthy Mall, Webster Hall 441
Honolulu, Hawaii 96822
Phone: 808-956-2439
Fax: 808-956-3257
Email: linharec@hawaii.edu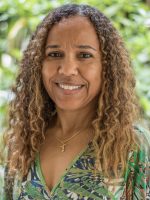 ---
Biography
Dr. Linhares is a clinical instructor for Maternal Newborn Nursing (N372 Lab). She has been licensed as a registered nurse since 1991, and as a certified nurse- midwife since 1995. Dr. Linhares has practiced midwifery in a variety of settings; community health, home birth, hospital based, tertiary care, outpatient clinics, and military health.
Dr. Linhares grew up in the Pacific region and in Switzerland. Dr. Linhares is married and has five children. For leisure, she is an instructor of capoeira (Brazilian martial art) and Brazilian dance. She co-owns a capoeira academy in Hawaii with her husband. Dr. Linhares and her family enjoy international travel.
Her accomplishments include being inducted into Sigma Theta Tau International Society in Nursing (2004), the Shafter Award in Nurse-Midwifery from Columbia University School of Nursing (1995), and being a Nursing Honors Graduate from the University of Hawaii at Hilo (1991).
---