Carmen Heidi Linhares, PhD, CNM, APRN-Rx
Assistant Professor
School of Nursing and Dental Hygiene
University of Hawaii at Manoa
2528 McCarthy Mall, Webster Hall 441
Honolulu, Hawaii 96822
Phone: 808-956-5324
Fax: 808-956-3257
Email: linharec@hawaii.edu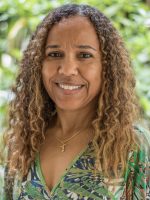 ---
Biography
Dr. Linhares is a clinical instructor for Maternal Newborn Nursing (N372 Lab). Dr. Linhares has been licensed as a registered nurse since 1991, and as a certified nurse- midwife since 1995. Dr. Linhares has practiced midwifery in a variety of settings; community health, homebirth, hospital based, tertiary care, outpatient clinics, and military health. Dr. Linhares grew up in the Pacific region and in Switzerland. Dr. Linhares is married and has five children. For leisure, Dr. Linhares is an instructor of capoeira (Brazilian martial art) and Brazilian dance. She co- owns a capoeira academy in Hawaii with her husband. Dr. Linhares and her family enjoy international travel. Her accomplishments include being inducted into Sigma Theta Tau International Society in Nursing (2004), the Shafter Award in Nurse-Midwifery from Columbia University School of Nursing (1995), and being a Nursing Honors Graduate from the Univerisity of Hawaii at Hilo (1991).
---
Education
PhD, University of Hawaii at Manoa
MS, Columbia University
BA, University of Hawaii at Hilo
AS, University of Hawaii at Hilo
---
Clinical Practice
Maternal-Child Health
---
Teaching Focus
Professional Nursing II Lab, and Maternal Newborn Nursing
---
Research Focus
Women's Health, Spirituality and Culture as it relates to childbirth, and midwifery and natural childbirth.
---
Recent Publications
Linhares, C. (2010). The gift of intuition, Midwifery Today. Article accepted for publication in May 2010.
Linhares, C. (2008). "Mana from heaven: the essential structure of the lived experiences of nurse-midwives with the concept of spirituality and childbirth". Poster presentation and proceeding from the 14th International Interdisciplinary Qualitative Health Research Conference, Banff, Canada. October 3-6, 2008.
Linhares, C. (2008). Mana from heaven: a midwife's experiences of spirituality in childbirth. Midwifery Today. 86, p. 43, 68.
Linhares, C. (2005). Literature Review of Spirituality in Midwifery and Childbirth. Power point presentation/ proceedings at the International Confederation of Midwives Triennial Conference. Brisbane, Australia. July 2005.
Linhares, C., (2012, Mar/ April). The lived experiences of midwives with spirituality in childbirth: mana from heaven. Journal of Midwifery and Women's Health, 57 (2), 165- 171.
---
Funded Grants
Integrating Concept-Based Learning Activities with HNIP Preceptor Training to Promote Competency Development
Hawaii State Center for Nursing, Hawaii Nurse Internship Preceptor (HNIP)
Research Partnership Grant, HSNC Clinical Education Redesign
October 2009 to June 2010
Co-Principal Investigator