Janet Uyehara, MS, RN-BC
Assistant Professor
School of Nursing and Dental Hygiene
University of Hawaii at Manoa
2528 McCarthy Mall, Webster Hall 412
Honolulu, Hawaii 96822
Phone: 808-956-5234
Fax: 808-956-3257
Email: juyehara@hawaii.edu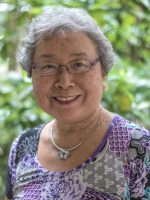 ---
Biography
Janet is the primary faculty and coordinator for maternal-newborn nursing courses in the undergraduate BS nursing program since Fall 1994. She has developed, implemented, evaluated, and revised all aspects of the maternal-newborn nursing courses in both the traditional and accelerated BS programs.
She has served as Chair of the Undergraduate Student Affairs Committee in the Department of Nursing from 1996 to 2015. In this role, she  had a major responsibility in facilitating the admission, progression, and graduation of students in the undergraduate nursing program and in the review and selection of undergraduate students for scholarships and awards.
Janet was the 2007 recipient of the UHM Chancellor's Citation for Meritorious Teaching and received the Nurse Educator Award from the Department of Nursing in 2008. In 2011, she was honored with the DAISY Faculty Award in recognition of her commitment and inspirational influence on her students. She also received the UH Manoa Nursing Sensational 60th Alumni Award in 2016 and was recognized as a Golden Scholar at the UH Manoa Nursing Alumni 4th Annual Endowed Scholarship Fundraiser Dinner in 2018. She is an ANCC Board Certified Perinatal Nurse since 1993.
---
Education
MS, University of California at San Francisco
BS, University of Hawaii at Manoa
---
Clinical Practice
Maternal-Newborn Nursing.
---
Teaching Focus
Maternal Newborn Nursing: Trends & Issues, Pregnancy, Labor & Delivery, Post-partum, Parent-newborn Interaction, Newborn Nutrition, Newborn, Family Planning (Birth Control, Infertility, Genetic Screening & Counseling), High Risk Pregnancy, High Risk Childbirth, Postpartum Complications, High Risk Newborn, Adolescent Pregnancy, Neonatal Loss, and Maternal Newborn Nursing Lab.
---
Research Focus
Health Promotion and Education of the Childbearing Client and Family and in Predictors of Program and NCLEX-RN Success in a Traditional BSN program.
---
Recent Publications
For a list of select publications, visit Janet Uyehara on PubMed.
---