Kaberi Mozumder, MSN, APRN-Rx, PPCNP-BC, NCSN*
Neighbor Island Supervisory APRN & Virtual Health Lead
Hawaii Keiki: Healthy & Ready to Learn
Nancy Atmospera-Walch School of Nursing
University of Hawaii at Manoa
Cell: 808-268-2025
Email: kmozumder@ucera.org
*National Certified School Nurse (NCSN)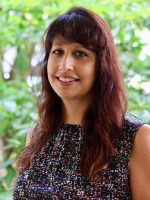 ---
Biography
Kaberi Mozumder is a pediatric nurse practitioner and is the Neighbor Island Supervisor and Virtual Health Lead for the Hawaii Keiki: Healthy & Ready to Learn Program. In this role she is responsible for providing professional development and supervision to the Hawaii Keiki Registered Nurses and Nurse Practitioners on the neighbor islands, in addition to serving as a nurse leader for the health hotline and telehealth services.
Kaberi graduated from Yale University School of Nursing in 2008 with a master's degree in nursing, specializing in pediatrics. She is currently pursuing her Doctorate of Nursing Practice in Organizational Leadership from the UH Manoa Nancy Atmospera-Walch School of Nursing. She has more than 12 years of nursing experience in multiple settings including primary care, urgent care, and acute care.
Kaberi started with Hawaii Keiki in 2019 as the Complex Area Nurse Practitioner  for the Baldwin-Kekaulike-Maui complex area. In this role, she was a school-based clinician, medical consultant, and health educator for 20 schools. She is passionate about pediatrics and has a special interest in asthma, mental health, substance abuse, and the anti-trafficking movement.
Kaberi also has extensive experience in the sub-specialty of pediatric cardiology and cardiothoracic surgery, having worked for eight years at various academic medical institutions including Stanford Children's Hospital, Children's Hospital of Los Angeles, and Cedars Sinai Medical Center.
Kaberi has served as a clinical instructor for nurse practitioner students from University of California San Francisco, Cal State University of Long Beach, and Azusa Pacific University. She has presented at national conferences including the Children's Hospital of Philadelphia Conference on Pediatric Cardiovascular Disease. Kaberi completed specialty training on Leadership in Medicine at Children's Hospital of Los Angeles and also has a certification in Global Health from the University of Manchester. She has enjoyed opportunities to lead medical teams in humanitarian aid work such as during the migrant crisis of 2015-2016 in Thessaloniki, Greece.
---