Mary G. Boland, DrPH, RN, FAAN
Dean & Professor
School of Nursing and Dental Hygiene
University of Hawaii at Manoa
2528 McCarthy Mall, Webster Hall 402
Honolulu, HI 96822
Ph: 808-956-8522
Fax: 808-956-3257
Email: mgboland@hawaii.edu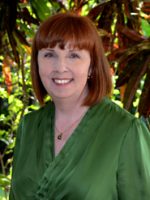 ---
Biography
Mary G. Boland is Dean and Professor of the School of Nursing and Dental Hygiene at the University of Hawaii at Manoa. At the University of Hawaii, she is committed to shaping the future of nursing education and scholarship for Hawaii and the Pacific region. Today, the school is increasing enrollments and added a graduate entry program to address the shortage of entry level practitioners and develop leaders in nursing; conducting research to identify and address significant chronic health programs; and deepening our relationships with our local and global communities. We are leading the way in use of technology to remove geographic distance as a barrier to graduate education. Master and doctoral programs are designed using technology to address the needs of rural students living in underserved communities throughout Hawaii and the United States. Under her leadership, the school is a partner in campus efforts to foster collaborative interdisciplinary research and education.
Prior to joining the University of Hawaii, Dr. Boland served as associate dean and the François-Xavier Bagnoud Professor of Nursing at the University of Medicine and Dentistry of New Jersey. She has extensive academic research and administrative experience, and was the co-founder and director of the François-Xavier Bagnoud Center, an innovative interdisciplinary endeavor within the School of Nursing and New Jersey Medical School.
Dr. Boland is a fellow of the American Academy of Nursing and a member of Sigma Theta Tau, the nursing honor society. Active in global health issues, she has worked extensively with the World Health Organization and Centers for Disease Control and Prevention. She received a doctoral degree in public health from the Mailman School at Columbia University, a master's degree in nursing from Seton Hall University and a bachelor's degree in nursing from the University of Pennsylvania.
---