Rhea Faye Felicilda-Reynaldo, EdD, RN
Associate Professor
School of Nursing and Dental Hygiene
University of Hawaii at Manoa
2528 McCarthy Mall, Webster Hall 218
Honolulu, HI 96822
Ph: 808-956-8349
Fax: 808-956-3257
Email: rff@hawaii.edu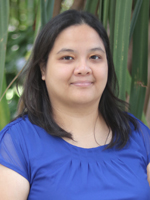 ---
Biography
Dr. Faye Felicilda-Reynaldo's passion is in nursing education. During the past 12 years of her nursing career, most were spent as a nursing review specialist, clinical educator, and nursing educator in schools/colleges of nursing. Prior to transitioning to nursing education, her clinical practice was focused in perioperative nursing and medical surgical-nursing. She has taught nursing review classes for the Philippine Nursing Licensure Exam, CGFNS certification exam, and NCLEX-RN/PN exams. She also serves a volunteer faith community nurse at her church. Her content expertise is in nursing pharmacology, nursing research, and evidence-based practice. Her research focus is in pharmacology and complementary and alternative therapy use safety among minority populations.
---
Education
EdD, Southwestern University
MSEd, Missouri State University
MAN, Southwestern University
BSN, Southwestern University
---
Clinical Practice
Perioperative Nursing, Medical-Surgical Nursing, and Faith Community Nursing.
---
Research Focus
Issues in Teaching and Learning in Nursing Education, Safety in Pharmacology & Complementary and Alternative Therapy Use of Minority Populations, and Medical Pluralism among the Filipino-American Population.
---
Recent Publications
For a list of select publications, visit Rhea Faye Felicilda-Reynaldo on PubMed.
---
Funded Grants
Practices, Clinical Behaviors, Clinical Decision-Making Processes, and Aspirations in Practice: A Nationwide Qualitative Study.
Academy of Medical-Surgical Nurses
January-December 2013
Primary Investigator