Sarah Mercado, MS, RN, NCSN*
Program Manager
Hawaii Keiki: Healthy & Ready to Learn
School of Nursing and Dental Hygiene
University of Hawaii at Manoa
Office Location
University of Hawaii at Manoa
Biomedical Sciences C105 CB
Mailing Address
School of Nursing and Dental Hygiene
2528 McCarthy Mall, Webster Hall 402
Honolulu, HI 96822
Phone: (808) 956-5476
Cell: (808) 465-5713
Email: smercado@ucera.org
*National Certified School Nurse (NCSN)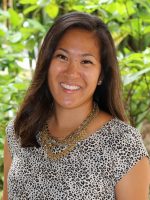 ---
Biography
Sarah Mercado is the Program Coordinator at Hawai`i Keiki. She is the liaison to University Health Partners and coordinates administrative, purchasing and travel requests. She provides on-call RN services supporting Oahu Hawai`i Keiki nurses.
Sarah received her BSN from Azusa Pacific University, School of Nursing in Southern California. She then attended California State University, Fullerton where she completed coursework to obtain her School Nurse Services Credential through the California Commission on Teacher Credentialing.
Before joining Hawai`i Keiki, Sarah worked as a Consultant Nurse for both Bonita and Duarte Unified School Districts in California where she assisted with state mandated screenings and assessments and provided direct student care. She also served as the School/District Nurse for Lake Elsinore and Duarte Unified School Districts where she promoted optimal health of school-age children to enhance education by coordinating care for students at multiple school sites. Sarah is committed to school health and maintains active memberships with the National Association of School Nurses and Sigma Theta Tau International Honor Society of Nursing.
---