Donors Recognized as New Scholarship Announced Honoring Naleen Andrade, MD
Written by Tina Shelton, John A. Burns School of Medicine
Posted on November 24, 2013
View the JABSOM article here.
Andrade Scholarship Announced from UHMed on Vimeo.
A new scholarship honoring the contributions of Naleen Andrade, MD, has been announced at the University of Hawaii at Manoa. The scholarship, for students in the College of Health Sciences and Social Welfare, was celebrated at the Dean of Medicine's annual "Dean's Circle" event at the John A. Burns School of Medicine in Kaka`ako on November 20.
Schools in the College include Medicine, Nursing, Social Work and the future school of Public Health. The scholarship is meant to assist students of Native Hawaiian ancestry who are committed to careers in health care.
Watch our video above (or directly linked below), where you will hear from two of the new scholarship's recipients, as well as the Deans of Medicine and Nursing and the President of the UH Foundation. The generous donor making the new scholarship possible asked to remain anonymous.
About Dr. Andrade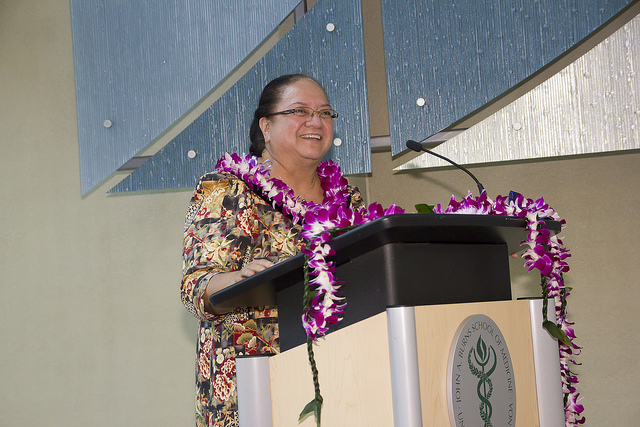 Dr. Andrade is a JABSOM alumna and a Native Hawaiian who was encouraged in medicine by the `Imi Ho`ola Post Baccaulareate Program.  (`Imi is a year long intensive study for promising students who hope to become MD candidates, which has produced more than 225 MDs, 40% of them Native Hawaiians.)
In July 2012, Dr. Andrade was appointed Designated Institutional Official (DIO) at JABSOM by Dean Jerris Hedges. In that capacity, she leads all graduate medical programs at the School.
In assuming the new post, Dr. Andrade stepped down from a job she held for 17 years–as Chair of JABSOM's Department of Psychiatry. During Dr. Andrade's long leadership, Dean Hedges said the department reached new heights of excellence in education, clinical care, and research in Native Hawaiian and Pacific Youth Addictions. Dr. Andrade was national President of the American College of Psychiatrists in 2012. With former JABSOM Psychiatry Chair Dr. John McDermott, she authored Peoples and Cultures of Hawaii, now in its second edition.
To watch our video without Flash Player, directly on UH MED Vimeo, click VIDEO DEAN'S CIRCLE 2013.
To see photographs from the event at PHOTOS DEAN'S CIRCLE 2013.