Event Details
Event Date:
Start Time:
End Time:
Location:
In-person at UH Manoa Campus, Webster Hall, Room 205 or Virtually on Zoom Webinar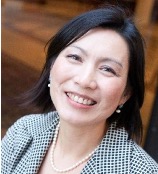 Presented by:
Emi Kiyota, Ph.D.
Environmental Gerontologist and Organizational Culture Change
Monday, January 24, 2022 from 1:00 – 2:00 p.m.
This event is free and open to all members of the healthcare community.
Register by Friday, January 21, 2022.
Attend In-Person at UH Manoa Campus, Webster Hall, Room 205
UH students, faculty and staff are invited to attend in-person. Attendees must register online. Before coming to campus, attendees must complete LumiSight UH to verify eligibility. The in-person option is subject to Honolulu City & County and UH guidelines at the time of the event.
Virtual on Zoom Webinar
Healthcare community members and guests are invited to register for the virtual Zoom Webinar.
Biography
Dr. Emi Kiyota is the Founder and Director of Ibasho. Inclusiveness is a global issue. Dr. Kiyota, an environmental gerontologist and organizational culture change expert, focuses on creating inclusive communities where elders are assets. Current practices that segregate elders from the community are not desirable or sustainable. Dr. Kiyota's keynote will shed light on how to shift our way of thinking, and listen to and engage elders in defining a new future.
Dr. Kiyota is a consultant to numerous age-friendly design projects for senior housing, hospitals, and clinical-care centers in the United States, Europe, Asia and Africa. In addition to her consultant work on quality improvement in the built environment for long-term care and aging services, Dr. Kiyota, and a group of like-minded colleagues, created a not-for-profit, international organization entitled Ibasho. Ibasho, embodying the Japanese concept of "a place where one feels at home being oneself", aims to create socially, economically, and environmentally sustainable communities that engage and value their elders. With this vision, she has been involved in the development of housing and services for elders in Bhutan, Sri Lanka, and the Ivory Coast.
Presentation Abstract: "IBASHO"
The concept of ibasho—a Japanese term meaning a place where one feels a sense of belonging and purpose, and is accepted as oneself—challenges prevalent perceptions about aging. The Ibasho approach recognizes elders as valuable assets to their community, empowering them to be active participants and changing the harmful outcomes created by society's negative perceptions and expectations—social isolation, a loss of dignity and respect, and a sense of uselessness and irrelevance. This approach improves the community's ability to withstand shocks caused by natural hazards by creating a strong informal support system in which elders are the catalyst to strengthen social capital among community members of all ages.
Key Concepts
The theory of change behind this project draws on multiple constructs, including elder empowerment, ibasho, community bonding, social capital, and community resilience. These concepts relate to each other, based on four assumptions: 1. Empowering elders changes the way they feel about their role in their community, 2. Creating the Ibasho Café (both physical and social infrastructures) with elders in a leadership role increases the community bonding among the members of all ages, 3. A strong sense of community bonding increases the level of social network and community participation, enhancing the sense of belonging and trust, and developing reciprocity between neighbors, and 4. An enhanced sense of social capital strengthens the community's resilience so it is better prepared to withstand future natural disasters and the impacts of global aging.
Hosted by the UH Manoa Nancy Atmospera-Walch School of Nursing
Persons with disability-related access needs are invited to contact Mia Tockey at (808) 956-0442 or mtockey@hawaii.edu by January 19, 2022.