Four APRN alumni complete nurse practitioner residency in Waianae
On August 2, 2019, eight advanced practice registered nurses (APRNs) graduated from the Waianae Coast Comprehensive Health Center's (WCCHC) post-graduate nurse practitioner (NP) residency program. Four UH Manoa Nursing alumni completed this intensive year long program:
Mathew Bellhouse-King, DNP, APRN, FNP-BC
Aaron Summers, DNP, APRN, FNP-BC
Yvonne Yokono, DNP, APRN, AGNP-C
Leonie Kubo, MS, APRN, FNP-BC
Dr. Kristine Qureshi, PhD, RN, FAAN, associate dean for research and global health and Dr. Katherine Finn Davis, PhD, RN, APRN, CPNP, FAAN, director for community partnerships attended the event in support of the alumni.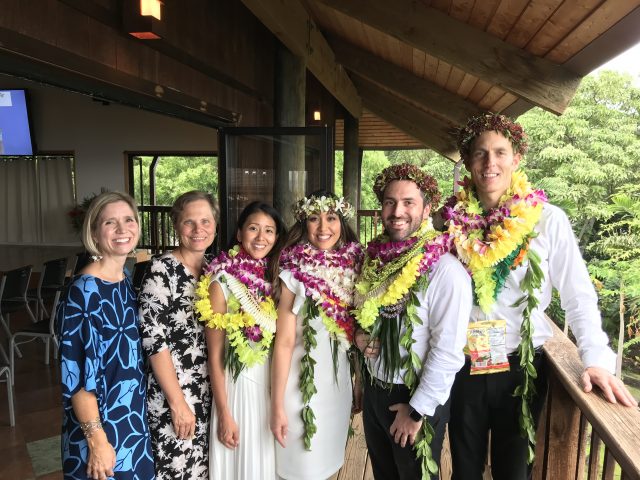 Nurse practitioner (NP) residency programs provide a venue where each new graduate hones their skills and expertise in providing care to clients with complex healthcare needs. Not all NPs complete a post-graduate residency. At this time, there are limited residency positions in the U.S. The majority of new NP graduates gain confidence during their first year after graduation while being mentored by colleagues at their place of employment.
The WCCHC NP residency program includes rotations through a wide variety of clinical specialties under the supervision of a physician or senior level NP. Gradually, each NP resident builds a panel of clients, and learning is augmented with weekly lectures and interdisciplinary learning activities. Many patients have a significant burden of health problems that include multiple serious chronic illnesses and often challenges with access to healthcare services. WCCHC also emphasizes unique experiences in Native Hawaiian health and traditional healing culture.
These Manoa Nursing APRN graduates represent the future of primary healthcare in the U.S. In Hawaii, APRNs have full scope of practice authority to diagnose, prescribe and treat patients. As the U.S. population continues to age, the number of people with multiple chronic diseases is expected to continue to rise and this population will require intensive primary care. The U.S. healthcare system lacks the capacity to provide intensive primary care to all who need it. APRNs are well prepared to fill the gap in intensive primary care services in our nation.
For more information, please contact the UH Manoa Nursing DNP program director, Dr. Julie Kathman, DNP, RN, CNS-BC, CPN. Applications are available and the deadline is January 5, 2020.