Hawaii Keiki
Clinical and Field Work Placement
Welcome to the Hawaii Keiki: Healthy and Ready to Learn Program
Hawaii Keiki: Healthy and Ready to Learn is a partnership between UH Manoa Nancy Atmospera-Walch School of Nursing and the Hawaii Department of Education and sits at the intersection of education and health to support the DOE to achieve student, school, and system success.
The program is enhancing and building school based health services that screen for treatable health conditions; provide referral to primary health care and patient centered medical home services; prevent and control communicable disease and other health problems; and provide emergency care for illness or injury.
Students succeed academically when they come to school ready to learn. The evidence is clear that:
Hunger, chronic illness, or physical and emotional abuse, can lead to poor school performance.
Health-risk behaviors such as substance use, violence, and physical inactivity are consistently linked to academic failure and often affect students' school attendance, grades, test scores, and ability to pay attention in class.
School based health programs decrease dismissal from school and are associated with better attendance.
Goals
The program goal is to keep our keiki healthy and ready to learn by providing access to school nursing services in Hawaii's public schools. The program is designed to improve access and quality of health services in the school by coordinating and expanding existing efforts of the partners and community resources.
A goal of Hawaii's public schools is to provide the best learning experience possible to prepare students for higher education. A goal of UH Manoa Nancy Atmospera-Walch School of Nursing is to improve the health of Hawaii through education of nurses and service to the people of the state. Together, we are improving health of our keiki and building student, school and system success to create a bright future for the state.
Contact Info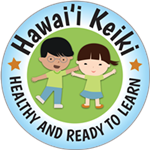 Hawaii Keiki: Healthy & Ready to Learn
Hawaii Keiki: Healthy & Ready to Learn
Hawaii Keiki: Healthy & Ready to Learn
Nancy Atmospera-Walch School of Nursing
University of Hawaii at Manoa
2528 McCarthy Mall, Webster 402
Honolulu, HI 96822
Phone: (808) 956-8522
Email: hikeiki@hawaii.edu
Join the Hawaii Keiki Newsletter
Subscribe to the Nancy Atmospera-Walch School of Nursing email newsletter to receive information about the Hawaii Keiki Program.