HIDOE Students Access Free Virtual Visits with a Nurse Practitioner
Visits with a Nurse Practitioner is now only a click away for many Hawaii State Department of Education (HIDOE) students thanks to Hawaii Keiki: Healthy and Ready to Learn's Virtual Keiki Care. Launched in April 2021, Virtual Keiki Care uses high-quality telehealth technology to connect a Hawaii Keiki Registered Nurse (RN) or trained School Health Support Staff to a Hawaii Keiki Nurse Practitioner (APRN).
Virtual visits are free for students and are now being offered at more than a dozen HIDOE schools across the state. Telehealth services were initiated in an effort to provide students with higher levels of care from the school health room, decrease transportation and financial barriers for families, improve access to care for rural schools, and keep students healthy and in the classroom.
During a Virtual Keiki Care visit, the Nurse Practitioner will complete a virtual physical assessment with the student, make a diagnosis and plan of care, and provide prescriptions or order lab tests, if appropriate. Parents/guardians will be contacted for consent prior to the visit and may attend the visit virtually, in-person with their student, or have the Nurse Practitioner call to discuss their findings and the plan of care after the visit. All findings from the visit will be shared with the student's primary care provider.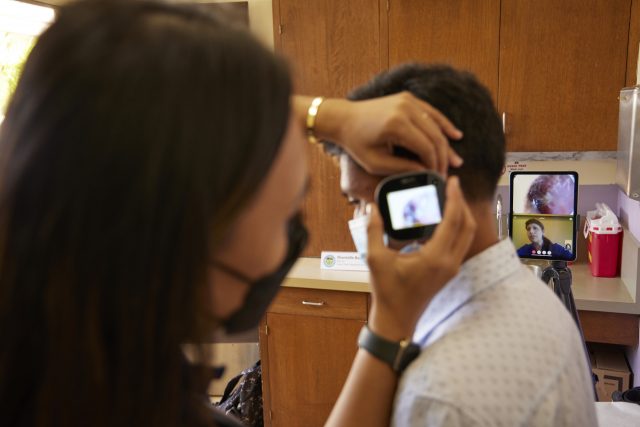 "Virtual Keiki Care provides students in some of the most remote and high need areas access to healthcare that they might not otherwise receive," said Kaberi Mozumder, Virtual Health Lead and Neighbor Island Supervisor for Hawaii Keiki. "By using virtual technology, we are able to conduct comprehensive exams that simulate the in-person clinic experience. The RN who is physically with the student provides a hands-on component that facilitates the virtual visit. This enables the virtual provider the ability to manage most types of health issues for students in school health rooms. This keep more students in school and reduces barriers to care for families such as time constraints, missed work days, transportation issues and financial concerns."