Nursing Alumni Raise $28,800 for Student Scholarship; Recognize Four Alumni with Awards
On Thursday, April 11, 2019, the UH Manoa Nursing Alumni Association hosted the 2019 Alumni Awards & Scholarship Fundraiser event at the Japanese Cultural Center of Hawaii. More than 180 guests attended to honor the two 2019 Alumni Hall of Fame inductees Mimi Harris and Gail Kanegawa, and the two 2019 Outstanding Young Alumni recipients Andrew Moats and Jennifer Morita.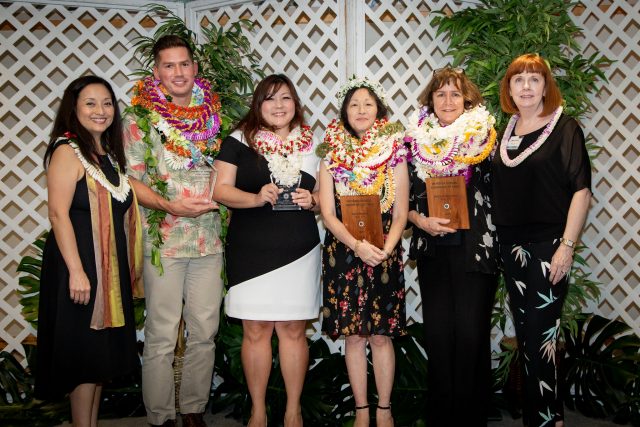 Additionally, nursing master's student Kanoe Tani and nursing student veteran Christopher Davis spoke about the impact of scholarship on their lives. The alumni chapter raised $28,800 to support nursing endowed scholarship and student awards.
Madeline (Mimi) Harris, MS '89, BS '76, RN, CNS, NEA-BC is the Chief Nursing Officer and Vice President of Patient Care for The Queen's Health Systems. Gail Kanegawa, BS '87, AS '85, RN is the Extended Care – Patient Care Lead Coordinator at Kaiser Permanente. Both join the UH Manoa Nursing Alumni Hall of Fame.
Andrew Moats, MSN '12, BSN, RN is the Chief Nurse Executive and Director of Hospital Operations at Straub Medical Center. Jennifer Morita, DNP '15, MS '12, MS, FNP-BC, APHN is a family nurse practitioner at Waianae Coast Comprehensive Health Center and Kaiser Permanente. Both join the UH Manoa Nursing Outstanding Young Alumni.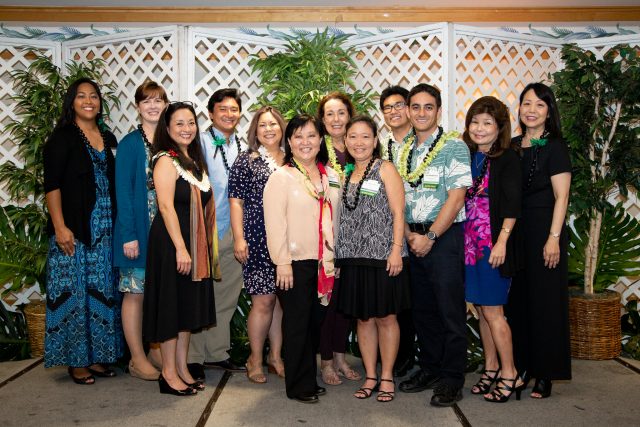 View photos from the event and contact the UH Manoa Nursing Alumni Association at nursalum@hawaii.edu for more information. Special thanks to the Nursing Student Ambassadors for volunteering at the event.