The program is designed as a post-Master's or higher degree program to meet our statewide demand for a highly competent nursing workforce equipped with the skills to ensure the delivery of safe, quality nursing care in Hawaii.
The  Essentials of Doctoral Education for Advanced Nursing Practice (AACN, 2006) are integrated throughout the program. Students must complete the 1,000 post- bachelor's supervised hours required to obtain the DNP degree. The curriculum includes the completion of a minimum of 315 supervised hours for completion of the DNP project. However, additional hours may be required depending on the entering student's documentation of previously completed post-baccalaureate practicum/fieldwork.
Fast Facts
Admits licensed registered nurses (RN) possessing a master's or higher degree.
32 – 50 credits (27 didactic credits plus a minimum of 5 -23 credits for the DNP project) completed part-time over two years including summer sessions.
Students enter and progress in a learning cohort.
Courses are offered in a summer face-to-face sessions, online, and/or hybrid delivery.
Coursework includes developing, implementing, and evaluating a DNP project.
Students receive individual advising and support throughout the program by faculty.
Program Outcomes
The graduate is prepared for an emerging leadership role.
DNP Project
Graduates of the program will meet the requirement for a minimum of 1,000 post-baccalaureate supervised practice hours.  Required NURS 776 DNP Project hours will vary, dependent on documented post-baccalaureate practicum hours; 1 credit hour = 3 hours per week or 45 hours per semester.
Electives
The equivalent of six semester credits of graduate level (500 level or above) elective coursework are required to qualify for the DNP degree and must be taken after entry into the program. Elective courses will not be used as substitutions for the required courses listed in the DNP pathway.
In consultation with and approval of the academic advisor, elective coursework s will augment the student's DNP Project and/or contribute to their professional development.
Curriculum
Note: Sequence of courses may change due to availability of courses. The mandatory Summer Intensive is held on Oahu in early August.
Year 1
14 or more credits
Summer 
On-Campus Mandatory Summer Intensive (1-3 days)
Fall
7 or more credits
NURS 730 Principles of Evidence-Based Practice for Advanced Nursing (3)
NURS 750 Leadership & Management of Healthcare Systems (3)
NURS 776* DNP Project (1 cr min.)
Spring
7 or more credits
LAW 532: Bioethics (3)
NURS 746 Program Evaluation (3)
NURS 776* DNP Project (1 cr min.)
Year 2
12 or more credits
Summer 
5 or more credits
On-Campus Mandatory Summer Intensive (1-3 days)
NURS 768 Advanced Clinical Economics and Finance (3)
NURS 776* DNP Project (2 cr min.))
Fall
7 or more  credits
NURS 609 Health Policy (3)
NURS 776* DNP Project (1 cr min.)
Elective #1 (3)
Spring
7 or more credits
NURS 642 Healthcare Technology and Informatics (3)
NURS 776* DNP Project (1 cr min.)
Elective #2 (3)
Total: 32 or more credits
Updated: July 17, 2018
Partnership in the Nursing Education Exchange
University of Hawaii at Manoa is a member of NEXus (The Nursing Education Exchange). NEXus is a collaboration between participating doctoral programs in nursing that allows doctoral students enrolled at member colleges and universities to take courses that may not be offered at his/her home institution for a common tuition price. Students may fulfill the elective requirements by enrolling in NEXus courses.
Contact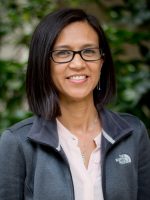 Aeza Hafalia, M.Ed
DNP Program Coordinator & NEXus Campus Staff Coordinator
---
Contact for DNP program applicants and enrolled students. Also for the NEXus program.
School of Nursing and Dental Hygiene
University of Hawaii at Manoa
2528 McCarthy Mall, Webster Hall 201
Honolulu, HI 96822
Ph: 808-956-8401
Fax: 808-956-5977
Email: dnpnurs@hawaii.edu