Master of Science
The Master of Science program is designed as a post-baccalaureate or higher degree program to meet our statewide demand for a highly competent nursing workforce equipped with the skills to ensure the delivery of safe, quality nursing care in Hawaii. The program incorporates the AACN Essentials of Master's Education in Nursing (AACN, 2011) as the foundation for the curriculum, integrating evidence based practice, quality improvement, and systems leadership to prepare nurses for flexible leadership and critical action within complex, changing systems, including health, educational, and organizational systems.
Master of Science Degree Entry Pathways
Students can enter the Master of Science degree program through one of these pathways.
Bachelor's to MS – RNs with a bachelor's degree in nursing
RN to MS – RNs with an associate degree in nursing and a non-nursing bachelor's degree
Graduate Entry Program in Nursing – Non-nurses with a non-nursing bachelor's degree
Fast Facts
The program educates future leaders for population health nursing with a focus on Hawaii and the Pacific Region.
Coursework is completed via online learning and fieldwork is conducted in the student's own local community.
The capstone project can be completed in the student's local community.
The 30-39 credit program is designed to be completed in one year as a full time student or in two years as a part time student.
Program Outcomes / Competencies
The AACN Essentials of Master's Education in Nursing provide the curricular elements and framework for the program (AACN, 2011). Copies or versions in other languages are available at the AACN Essentials website.
Master of Science in Nursing
A competent advanced practice nurse:
demonstrates professional actions based on core nursing values, professional standards of practice, and the law.
develops insight through reflective practice, self-analysis, and self care through the understanding of the law.
engages in ongoing self-directed learning and provides care based on evidence supported by research.
demonstrates leadership in nursing and health care.
collaborates as part of a health care team.
practices within, utilizes, and contributes to the broader health care system.
practices client-centered care.
communicates effectively and uses technology to support the delivery of health services.
demonstrates clinical judgment and critical thinking in the delivery of care of clients while maintaining safety.
As a Native Hawaiian nurse, I look forward to helping Hawaiian people with health issues that are common to our population. The IKE AO PONO Program has supported my academic journey as a graduate student, and I intend to repay this support by helping to improve the health of future generations. - Kanoe Tani, Master of Science in Advanced Population Health Nursing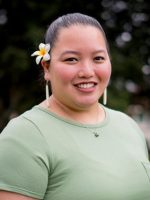 Contact
Raymond Jarman, PhD
Associate Specialist, Master of Science and PhD Program Advisor
---
Contact for applicants and enrolled students in the Master of Science and PhD programs.
School of Nursing and Dental Hygiene
University of Hawaii at Manoa
2528 McCarthy Mall, Webster Hall 201
Honolulu, HI 96822
Phone: (808) 956-3519
Fax: (808) 956-5977
Email: gradnurs@hawaii.edu (For Master of Science program)
phdnurs@hawaii.edu (For PhD program)