Master of Science
Master of Science in Population Health Degree Entry Pathways
Students can enter the Master of Science degree program through one of these pathways.
Bachelor's to MS – RNs with a bachelor's degree in nursing
RN to MS – RNs with an associate degree in nursing and a non-nursing bachelor's degree
Graduate Entry Program in Nursing – Non-nurses with a non-nursing bachelor's degree
Fast Facts
The program educates future leaders for population health nursing with a focus on Hawaii and the Pacific Region.
Coursework is completed via online learning and fieldwork is conducted in the student's own local community.
The capstone project can be completed in the student's local community.
The 30-39 credit program is designed to be completed in one year as a full time student or in two years as a part time student.
Program Outcomes / Competencies
At the conclusion of the program, the graduate is awarded a Master of Science degree in nursing with a specialty in advanced population health. The graduate is competent in the Essentials of Master's Education in Nursing that reflect current and future nursing practice at the master's level, which demands expert application of evidence-based practices, quality improvement methods, outcomes measurement, systems knowledge, and leadership skills. Nurses who obtain the competencies outlined in these Master's Essentials will possess the advanced knowledge in the discipline and leadership skills needed to improve health outcomes in a number of current and emerging roles.
As a Native Hawaiian nurse, I look forward to helping Hawaiian people with health issues that are common to our population. The IKE AO PONO Program has supported my academic journey as a graduate student, and I intend to repay this support by helping to improve the health of future generations. - Kanoe Tani, Master of Science in Advanced Population Health Nursing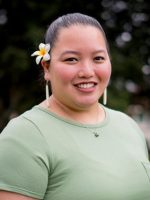 Contact
Raymond Jarman, PhD
Associate Specialist, Master of Science and PhD Program Advisor
---
Contact for applicants and enrolled students in the Master of Science and PhD programs.
School of Nursing and Dental Hygiene
University of Hawaii at Manoa
2528 McCarthy Mall, Webster Hall 201
Honolulu, HI 96822
Phone: (808) 956-3519
Fax: (808) 956-5977
Email: gradnurs@hawaii.edu (For Master of Science program)
phdnurs@hawaii.edu (For PhD program)