Nursing Scholarship Recipients Receive Mentorship Opportunity Focused on Leadership
Local nurse leaders joined their 11 Robert Wood Johnson Foundation – New Careers in Nursing (RWJF-NCIN) mentees on Monday, January 13, 2014 at Waioli Tea Room in Manoa Valley. The event kicked off the mentoring program that is aimed at fostering future nursing leaders.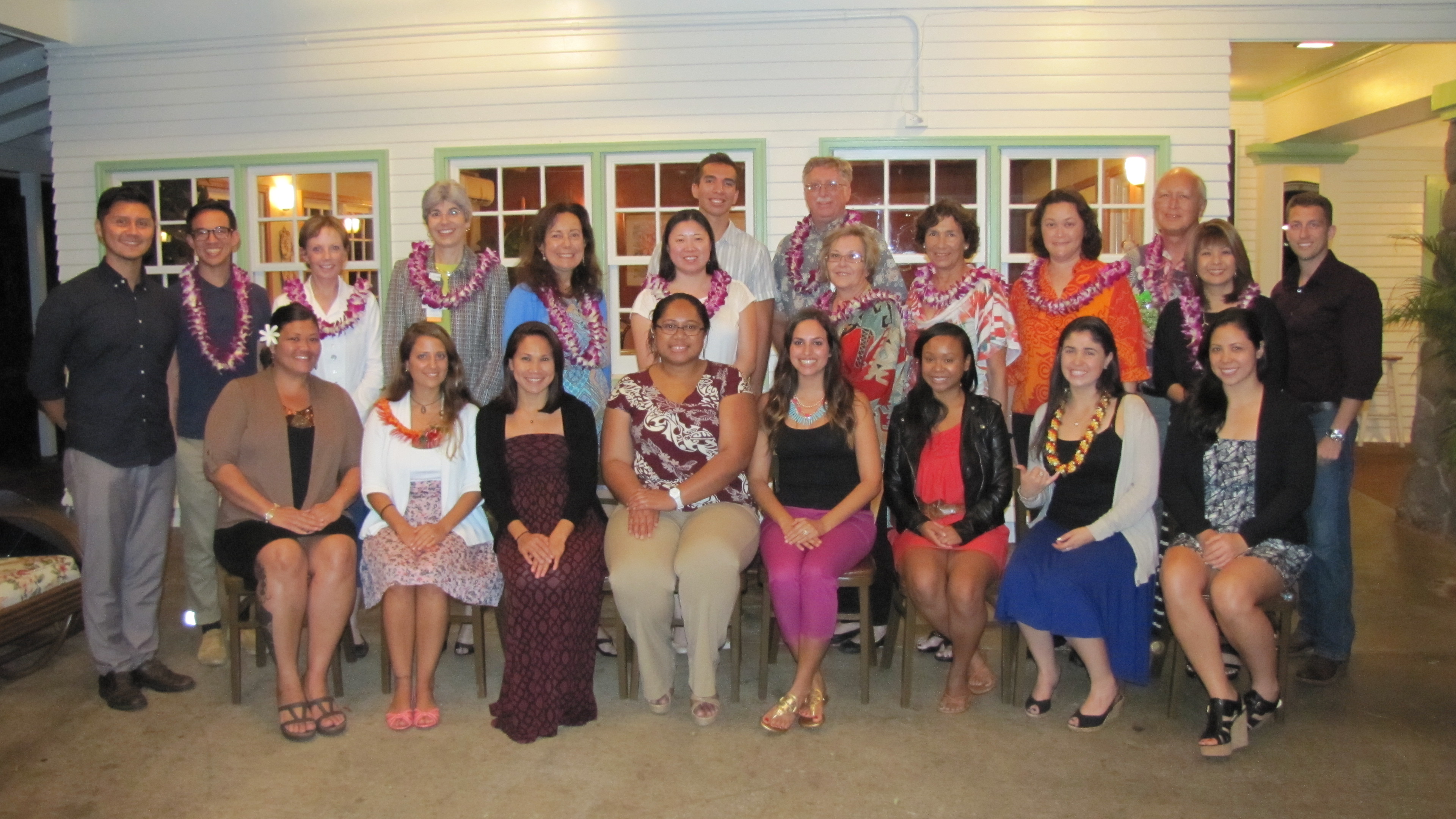 The RWJF-NCIN scholarship program is a part of UH Manoa Nursing's Master's Entry Program in Nursing (MEPN) that awards nursing students with a $10,000 scholarship and enrolls them in a comprehensive national leadership and mentoring program. The program focuses on developing future nurse leaders by focusing on self-knowledge, strategic vision, risk taking and creativity, communication effectiveness, and leading change.
The mentoring arm of the program offers skill building and role modeling from the perspective of cultural sensitivity and awareness, and provides the scholars with three types of mentors: professional nurse mentors, peer mentors, and faculty mentors.
Scholars and mentors were welcomed to the dinner by UHM Nursing MEPN program director Dr. Allen Hanberg, who led the scholars and their mentors through discussion and relationship building activities provided as part of the RWJF-NCIN mentoring toolkit. Following dinner, President and Chief Professional Officer of Hospice Hawaii, Kenneth L. Zeri, RN addressed the scholars and their mentors. Zeri shared his personal experience as a nurse and how mentors have helped him grow as a professional and contributed to his own career advancement.
UHM Nursing would like to thank the local nurse leaders who have volunteered to serve as mentors to the RWJF-NCIN scholars.
Mentor
RWJF-NCIN Scholar
Gidget Rustica
Vice President of Operations, Kapiolani Medical Center for Women and Children
Liat Miller
Kelli Williams
Nurse Practitioner – Inpatient Diabetes, The Queen's Medical Center
Tiffany DeVincent
Kenneth L. Zeri
President & Chief Professional Officer, Hospice Hawaii
Nohea Taufaasau
Michelle Lani Bray
Instructor, UH Manoa School of Nursing
Dara Pagaduan
Penny Morrison
Instructor, UH Manoa School of Nursing
Melyssa Majano
Art Wallace
Special Assistant for Asia-Pacific Affairs, Navy Medicine West
Daniel Layman
Maureen Shannon
Associate Professor, Graduate Chair, and Frances A. Matsuda Endowed Chair, UH Manoa School of Nursing
Andrea Kekipi-Aurio
Thaddeus Pham
Viral Hepatitis Prevention, Hawaii Department of Health
Bryan Chin
Valisa Saunders
Geriatric Nurse Practitioner, Leahi Hospital and Maluhia
Instructor, UH Manoa School of Nursing
Adjunct Faculty, UH Manoa John A. Burns School of Medicine
Angela Cash
Janet Camacho
Manager, Ambulatory Services, Kaiser Permanente
Cathy O'Connor
Jeanelle Sugimoto-Matsuda
Assistant Professor of Psychiatry, UH Manoa John A. Burns School of Medicine
Faapisa Soli
For more information about the Robert Wood Johnson Foundation New Careers in Nursing Scholars program contact Dr. Allen Hanberg at ahanberg@hawaii.edu.