Nursing school dean finalists scheduled for virtual visits with public
Notice 1/21/2022
The University of Hawaii at Manoa has announced the postponement of the Dean Search. Read the news story.
---
The University of Hawaii at Manoa has identified three finalists for the position of dean and The Queen's Health Systems Professorship for the Nancy Atmospera-Walch School of Nursing (NAWSON).
The three finalists are each scheduled for virtual visits over a two-day period which includes meetings with senior administrators, faculty, staff, students, and internal and external constituents, and a public presentation.
The decision to meet with the finalists virtually was made to protect the health and welfare of the UH community, community members and the general public. The candidates will participate from their home institutions with each session hosted by UH/NAWSON.
Campus and community members, as well as the general public, are encouraged to attend the public presentations. Zoom information for the public presentations may be found here.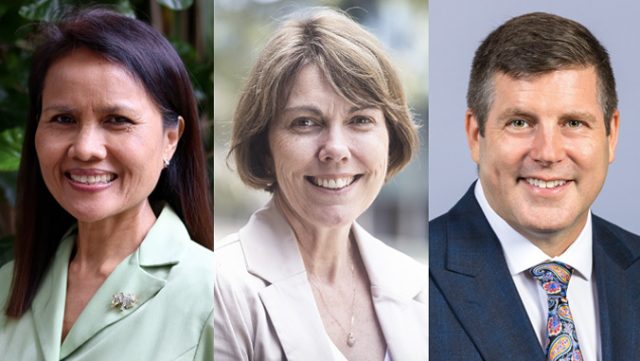 The campus visits of the three candidates have been scheduled as follows:
Clementina Ceria-Ulep, visiting January 25–26
Interim Dean and Professor
Nancy Atmospera-Walch School of Nursing, UH Manoa
Public Presentation: Tuesday, January 25, 11:30 a.m.–12:30 p.m.
Tracey Moroney, visiting February 1–2
Professor (Former Acting Dean)
Faculty of Science, Medicine and Health, University of Wollongong
Public Presentation: Tuesday, February 1, 11:30 a.m.–12:30 p.m.
J. Craig Phillips, visiting February 7–8
Professor (Former Vice-Dean, Governance and Secretary)
Faculty of Health Sciences, University of Ottawa
Public Presentation: Monday, February 7, 11:30 a.m.–12:30 p.m.
"The search advisory committee did a terrific job in identifying these three finalists and I would like to thank them for their time, hard work and commitment to the search process. This is an impressive pool of finalists and we are fortunate to be able to conduct this visit virtually with campus and community constituents as part of the effort in finding the next dean for the nursing school," said Provost Michael Bruno. "As always, we encourage UH faculty, staff, students and the public to participate and meet the candidates, and we look forward to receiving their feedback."
Following the visits and review of the feedback from the search advisory committee and others, Bruno will be making a recommendation on this appointment to President David Lassner.
For more information about the search process, including a list of the members of the search advisory committee, the campus visit daily schedule and the candidate biographies, see the search website. In addition, members of the community can provide feedback on the candidates through an online evaluation form that will be posted below this news story on January 24, 2022.