Sigma Theta Tau Honors Society Welcomed 2014 Fall Inductees
Founded in 1922, Sigma Theta Tau International (STTI) the nursing honor society consists of more than 135,000 active members across 85 countries. STTI's mission is to "support the learning, knowledge and professional development of nurses committed to making a difference in health worldwide." From its inception, STTI has valued excellence and scholarship and was the first U.S. organization to fund nursing research.
The fall 2014 STTI Gamma Psi-At-Large (Hawaii) Chapter induction ceremony was held at the Japanese Cultural Center of Hawaii's Manoa Grand Ballroom in Honolulu, Hawaii. On December 4, 2014, 29 UH Manoa Nursing inductees took their oath as a STTI member. UH Manoa Nursing Dean Mary G. Boland shook hands and congratulated students individually after they received their membership certificates and purple and white honor cords.
UH Manoa Nursing STTI Inductees, Fall 2014
| | | |
| --- | --- | --- |
| Chad Antonie | Sharolyn Kaui | Cheryl Ann Sumimoto |
| Jaime Cabaug | Priscilla Mathison | Colby Takata |
| Anna DeGolier | Micheal Menkewicz | Tanya Takatani-Apo |
| Brenda Duong | Danielle Na'ahi'elua | Ryan Tenn |
| Arlanda Fields | Jessica Niles | Memorie Tiapula |
| Yun-Wen Betty Fletcher | Noreen Mae Paned | Amanda Tran |
| Sheldon Fujiwara | Sayaka Reasoner | Shy Wegiel |
| Heather Garcia | Jerry Stockstill | Yee Wing Wong |
| Lydia Glynn | Elizabeth Stoltzman | Chloe Yester |
| Zoeann Goya | Chelsey Stout | |
The local Hawaii chapter, Gamma Psi-At-Large, held its first induction ceremony in April 1992, inducting 58 members. Following the fall 2014 ceremony, the Hawaii STTI chapter now has more than 611 active members.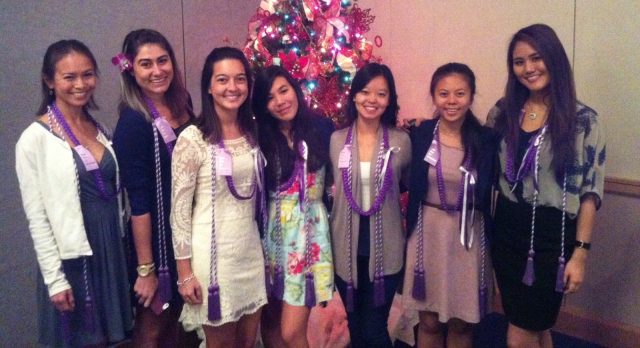 Gary Glauberman, a UH Manoa Nursing Instructor and STTI Member, keynoted the event with an address titled "Nursing: A commitment to Global Service." He encouraged new inductees, as well as current members, to either begin or continue their efforts to promote community and public health by thinking globally and serving locally, in alignment with STTI's global action goals.
STTI offers many opportunities to enhance the membership experience via the vast resources it provides (e.g., online books, career tools, educational opportunities, leadership development, and periodicals). With its grant-offering partners, STTI supplies more than $200,000 annually for nursing research.
To learn more about Sigma Theta Tau, how to become a member, or how to make the most out of your membership, please contact the Hawaii Chapter President Dr. Estelle Codier at codier@hawaii.edu  or the UH Manoa Counselor Frankie B. Hale at halef@hawaii.edu.