Student Nurses Organization Hosts Blood Drive in Honor of Helen Hites
On January 16, 2014 to launch the spring semester, SNO in coordination with the Blood Bank of Hawaii, Student Nurses Association (SNA), the UH Translational Health Science Simulation Center's Student Ambassador Program, IKE AO PONO, and the UH Manoa Nursing Alumni Association  hosted the first annual Helen Hites Memorial Blood Drive at UH Manoa Campus Center.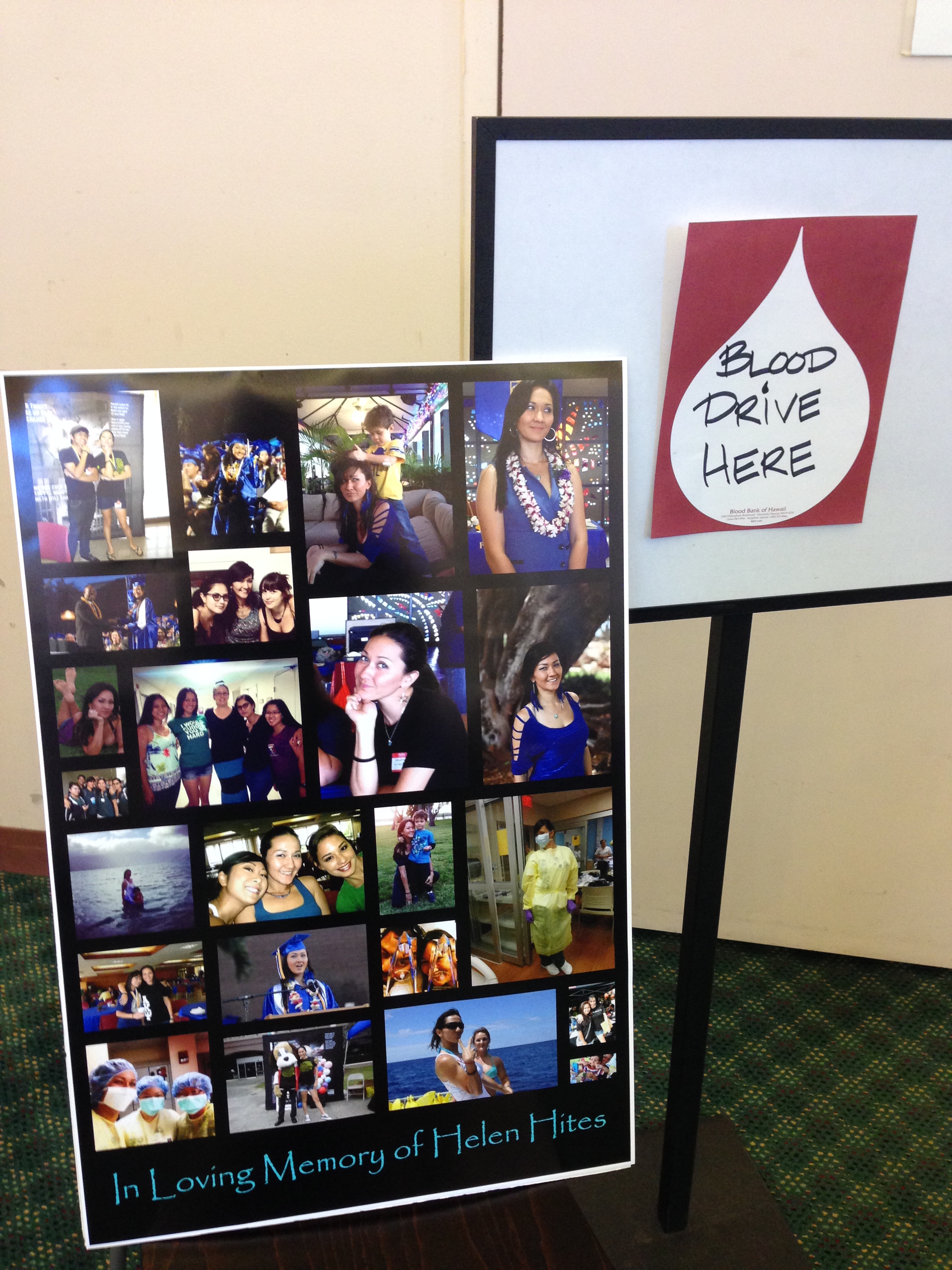 In March 2013, Helen Hites – a UHM Nursing student – passed away in a tragic motorcycle accident. Hites' classmates decided to sponsor a blood drive in her honor and hope that this event becomes an annual tradition where Hites can be remembered by saving lives through blood donations. Students remember Hites as a bright and witty friend, classmate, mother, and community volunteer. As a classmate, friends remember her as always being there offering support and caring hugs. In the community, Hites volunteered with many different organizations but the closest to her heart was the Hawaii Meth Project.
Hites' commitment to community service and helping others has inspired our nursing students to carry on her legacy with this blood drive. SNO is proud to announce that 108 appointments were booked with a total of 70 pints drawn. 91 donors were registered at the event – 18 being first time donors!
Crystal Lee, the Reigning Miss Hawaii, appeared at the blood drive to take photos with donors as part of the Blood Bank of Hawaii's Faces of Heroes program. Blood donation is Miss Hawaii's platform this year and she has donated blood, sponsored blood drives and recruited donors, in addition to supporting many of the Blood Bank's events.
SNO would like to thank student committee members Moani Amerino, Kendra Bolduc, Sarah Shin, Joanna Vendiola, Keesha Thomas, Feora Cadina, Jen Trinh-Ng, and Kristy Caneda for organizing an amazing event. Additional thanks to Brendon Friedman, SNO and SNA Faculty Advisor for his support, and other UHM Nursing faculty and staff who donated at the drive. Very special thanks to the Hites Family – to commemorate the first annual Helen Hites Memorial Blood Drive, Helen's mother attended the drive and donated in her honor.
For more information about upcoming blood drives, contact Brendon Friedman, Student Nurses Organization and Student Nurses Association Faculty Advisor at brendonf@hawaii.edu. To donate blood, contact the Blood Bank of Hawaii at www.bbh.org.