Two Manoa Nursing Faculty Inducted as Fellows into the American Academy of Nursing
On October 17, 2015, UH Manoa Nursing associate professors Debra Mark, PhD, RN, and Alice Tse, PhD, RN, APRN were inducted as Academy fellows at the American Academy of Nursing annual policy conference in Washington, D.C. UH Manoa Nursing is pleased that this year, two of our faculty members were inducted to represent the State of Hawaii. Mark and Tse join UH Manoa Nursing Fellows Dean Mary G. Boland, Stephanie Marshall, Maureen Shannon and Kristine Qureshi.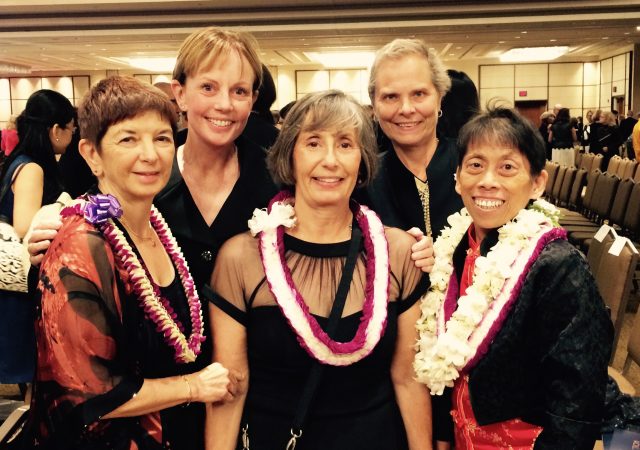 The Academy is comprised of more than 2,300 nurse leaders in education, management, practice, policy and research. Academy fellows include hospital and government administrators, collegedeans and renowned scientific researchers. Fellow selection criteria include evidence of significant contributions to nursing and health care, and sponsorship by two current Academy fellows. Applicants are reviewed by a panel comprised of elected and appointed fellows, and selection is based, in part, on the extent the nominee's nursing career has influenced health policies and the health and wellbeing of all.
Debra Mark, PhD, RN, associate professor and director of the Doctor of Nursing Practice Program, has more than 35 years of nursing experience. She has held clinical and management positions prior to transitioning into the academic arena. As an academic and practice leader, Mark improves the quality of nursing practice and healthcare delivery at the local, regional, and national level by directing a model state-wide evidence-based practice (EBP) program. As director of the Doctor of Nursing Practice program, she promotes translation of research beyond the academic health center. While serving in the military, Mark built an EBP program to improve healthcare for Army, Navy, and Air Force service members in the Pacific Region. In 2012, Mark received the Duane D. Walker Nurse Leader of the Year Award from the American Organization of Nurse Executives. In 2010, she received the Faces of Nursing Award from UHM Nursing for her significant contributions to the profession. She leads the Veterans to Nurses initiative, a HRSA funded program, that accelerates transition of veterans with health training to a career in nursing.
Alice Tse, PhD, RN, APRN, associate professor, has integrated nursing education, service and research to significantly improve nursing practice in the pacific islands, and in turn, improve the health of the populations in that region. She is recognized for her leadership in the development of community-based participatory approaches with pacific populations. For the past two decades, Tse has addressed the management of health disparities in the UA Affiliated Pacific Islands region. She has built community capacity within a collaborative (University of Hawaii, the American Pacific Nurse Leaders' Council and the Western Region of the World Health Organization) and serves as an international consultant to the Pacific Island region. She is certified as an in-county International Council for Nursing Leadership for Change Programee Trainer. Her scholarship is recognized with numerous awards and she has received funding from the National Institutes of Health, the Department of Defense, and private foundations. In July 2016, she will succeed Dr. Clementina Ceria-Ulep as Chair of the Department of Nursing.