UH Manoa Experience Welcomes More than 1,400 Guests to Preview Day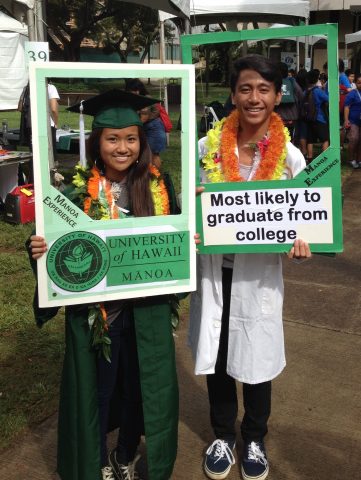 Despite rainy Manoa showers, more than 1,400 guests attended UH Manoa's University Preview Day that showcases and features campus programs. UHM Nursing participated in this year's Manoa Experience on Saturday, March 1, 2014, and hosted an open house in Webster Hall.
Guests visited 3 stations to get more information about nursing programs. Station 1 offered guests a chance to sign up for a tour of the state-of-the-art UH Translational Health Science Stimulation Center. Tours offered prospective students the opportunity to see nursing simulation educational environments and to experience some of the hands-on learning they would receive as a nursing student. At station 2, prospective students, along with their family and friends, had the opportunity to "talk story" with Nursing faculty and current Nursing students to get a better idea of what nursing is as a profession and also what it is like to be an actual Nursing student. Station 3 shared admission and academic information with people interested in applying to UHM Nursing and what coursework is involved for a degree in Nursing.
For more information about future UH Manoa Experience events, contact the UH Manoa Office of Admissions. For more information about our nursing programs, contact the UH Manoa Office of Student Services at nursing@hawaii.edu.