UH Manoa Nursing Virtual Open Houses for High School Students
UH Manoa Nursing welcomed high school students and their parents virtually at two High School Direct Entry into Nursing Program (HSDEN) Open House events on Saturday, October 17, 2020 and Saturday, November 21, 2020. The program offers direct entry to nursing for high school graduates dedicated to completing their Bachelor of Science in nursing degree in four years.
Guests at the events were welcomed by Clementina Ceria-Ulep, PhD, MSN, RN, associate dean for academic affairs and Alice Tse, PhD, APRN, FAAN, department of nursing chair. Dr. Tse provided an overview of the High School Direct Entry into Nursing Program and highlighted the current employment trends in nursing. UH Manoa Translational Health Science Simulation Center director Lorrie Wong, PhD, RN, CHSE-A, provided an overview and virtual demonstration of healthcare simulation in nursing education.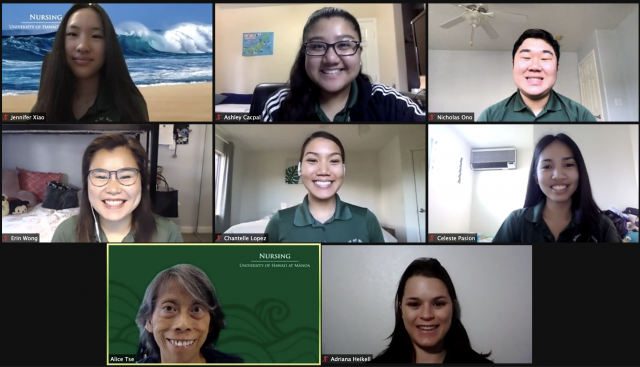 Nursing student ambassadors – student leaders selected to represent the School – facilitated an interactive virtual simulation activity with the prospective students in small groups. Each group was tasked with "breaking out" of a virtual escape room, which was a virtual simulation of one of the Simulation Center's intensive care rooms. With guidance from the student ambassadors, the prospective students completed tasks based on nursing skills such as taking blood pressure readings and determining heart rate to receive clues to eventually "break out" of the virtual simulation.
A panel of junior and senior nursing student ambassadors was facilitated by Dr. Tse. Topics covered by the panelists ranged from the difference between high school and college, how many hours per week they study and the benefits of being in the High School Direct Entry into Nursing Program.
The event concluded with an admissions presentation by Brian Akiyama, BA, pre-nursing advisor and admissions specialist. The High School Direct Entry into Nursing Program admits students every fall. For more information about upcoming School events, visit our event page.