Virtual Celebration for the GEPN Cohort 12
On Saturday, September 26, 2020, UHM Nursing conducted its ninth annual Graduate Entry Program in Nursing (GEPN) celebration, virtually. This annual event recognizes GEPN students who have completed their pre-licensure year. Traditionally, the event is held in-person but due to the current COVID-19 situation the event was transitioned online. Attendees included GEPN completion students, administrators, faculty, staff, and family and friends of the students.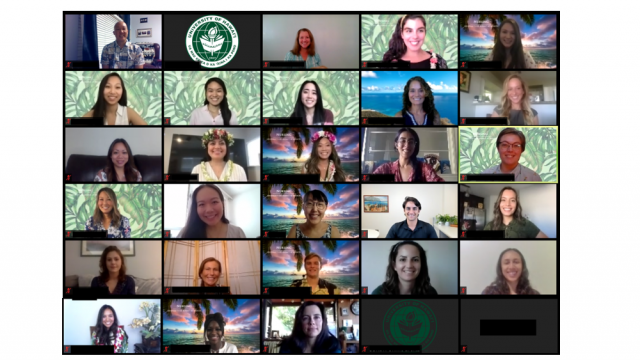 The event began with a welcome from master of ceremonies Assistant Professor Gary Glauberman and remarks from by Dean Mary G. Boland. Assistant Professor Brendon Friedman provided a keynote address followed by congratulatory messages from a few GEPN faculty. Student and faculty awards were announced, followed by the students being called individually to introduce themselves and share their selected specialties.
The cohort selected Traci Shiraishi for the Leadership Award, Angela Leonardo for the Kahiau Award and Dennis Ho for the Community Service Award. Assistant Professor Maureen O'Brien received the student-selected GEPN Nurse Educator of the Year Award.
The event culminated with Dr. Glauberman leading the GEPN students in reciting the Nurses' Pledge – a tradition in nursing whereby students make a commitment to practice the profession of nursing with the highest ethical standards and to safeguard and promote health for the entire community.
The Graduate Entry Program in Nursing is currently accepting applications for fall 2021. For more information about the program, please contact Chris Stutes, GEPN Coordinator at gepn@hawaii.edu or (808) 956-0445.