WIN 2023 Conference Event Recap
Written by: Merle Kataoka-Yahiro
The Western Institute of Nursing (WIN) is one of the four regional nursing research organizations in the US. Members of WIN include individual researchers, clinicians, educators, students, academic institutions, and health care organizations. WIN strives to improve the health of the public through visionary leadership in nursing research, practice, and education. New and emerging nursing knowledge is disseminated at WIN's annual research conference. The 2023 WIN conference was held in Tuczon, AZ – April 2023. UHM faculty, students, and alumni who presented were: Drs. Kira Fox, Uliana Kostareva, Merle Kataoka-Yahiro, Mahealani Suapaia, and Kamomilani Anduha Wong (alphabetical order). It is tradition for UHM Nursing to bring the leis for the WIN Awards Ceremony. This year as in the years past, Dr. Tse brought over the leis to Arizona for the conference on behalf of our School.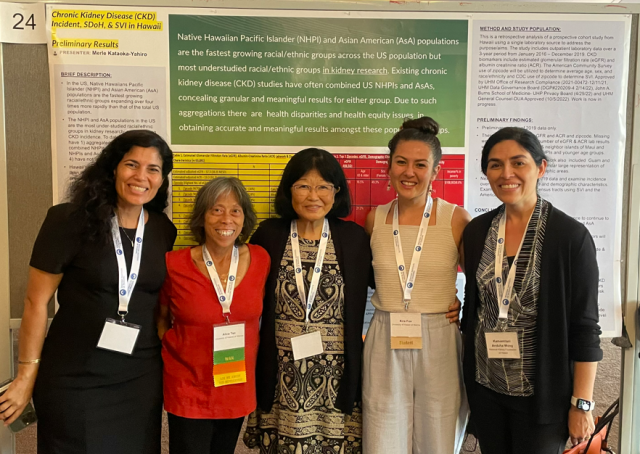 Podium Presentation:
Kamomilani Anduha Wong, Merle Kataoka-Yahiro, James Davis. Health and Well-Being through the Lens of Native Hawaiian Kupuna (Elders).
Poster Presentations:
Kira Fox, Alexandra Michel, Bruce Chen, Holly Fontenot. Implementation of Postpartum Glucose Screening for Women with Gestational Diabetes.
Mahealani Anduha Suapaia, Merle Kataoka-Yahiro, James Davis. Types of CAM Used in a Multiracial Diabetic Peripheral Neuropathy Population.
Merle Kataoka-Yahiro, James, Davis, Connie Rhee, Glen Hayashida, Kamomilani Anduha Wong, Victoria Page. Chronic Kidney Disease (CKD) Incident, SDoH, & SVI in Hawaii.
Uliana Kostareva, Cheryl Albright, Holly B. Fontenot, Suzanne M. Zeng, Carrie Soo Hoo. Perspectives on Effective Patient-Provider Communications with Filipino Patients.