Youth-targeted health education promotional posters available
A series of youth-centered, Hawaii-focused health posters to address top adolescent health concerns have been developed by researchers at the University of Hawaii at Manoa Nancy Atmospera-Walch School of Nursing (NAWSON) to increase health literacy (youth understanding of health) and foster open communication between youth and their health care providers. The posters will be displayed in Hawaii Keiki: Healthy & Ready to Learn nurse clinics located at Hawaii Department of Education (HIDOE) public high schools throughout the state beginning this month. Free digital posters are also available to health centers nationwide.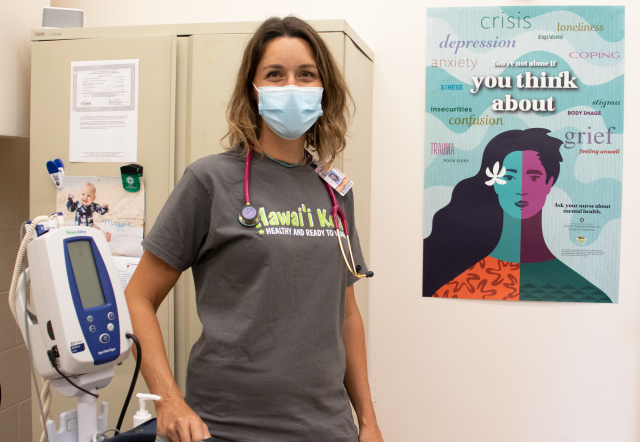 The poster development was led by Holly Fontenot, professor and director of research, and Deborah Mattheus, associate professor and Hawaii Keiki senior practice director, in partnership with community advisory groups, including Hawaii HOSA: Future Health Professionals, Stacy Leong Design, and parents, teachers, school nurses and youth workers.
"We know that adolescence is a challenging time for our youth today and we wanted to develop posters for health clinics that invite adolescents to engage in conversations about health," said Fontenot. "These posters were created to provide a friendly reminder to students that nurses in particular, are safe allies for them to learn more about their health, plus we hope that these posters will diminish potential stigmas associated with sensitive topics, like mental health."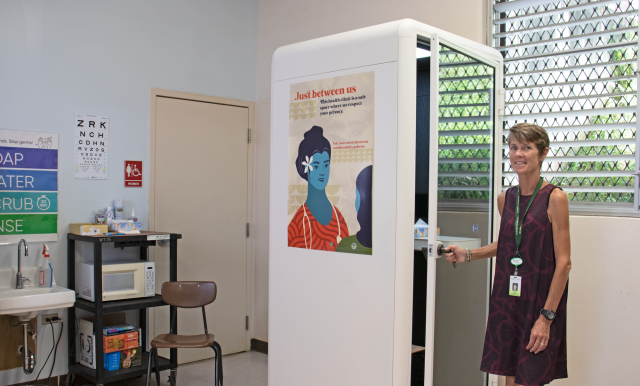 Mattheus added, "Our initial idea was to display the health promotion posters at our Hawaii Keiki high school clinics located at HIDOE public schools, but once we saw the final messaging and designs, we knew that these posters could be displayed in any Hawaii health clinic, and even across the nation. The posters are modern and cool, and were created specific for Hawaii youth. But these health messages are relevant to all adolescents. So we are making digital posters available to health centers across the nation."
Upon request, the free digital posters are available by contacting Fontenot at hbfont@hawaii.edu.
Health messages relevant to all adolescents
Adolescence is a pivotal, transitional phase of growth and development between childhood and adulthood. Fontenot and Mattheus led discussions with the advisory groups to identify top health issues for adolescents and garner perspectives related to preferred poster design. Based on this input, the plan for the posters was to address the following adolescent health-associated issues: developing healthy relationships, sexual health, mental health and confidentiality. These topics are in-line with priority health behaviors identified by both the national and Hawaii-based Youth Risk Behavior Surveys.
Poster dedicated to long-time state advisor
Fontenot and Mattheus are dedicating these posters to the late Ada Toyama, Hawaii HOSA state advisor who passed in June 2022, just as the poster development was completed. Toyama was the advisor for the 2021–2022 HOSA student group who were members of the youth advisory board. She was also a 2017 HOSA Hall of Fame inductee for her years of dedicated service as a state advisor who grew the Hawaii HOSA program to where it is today.
The project was supported by the Comprehensive Healthcare for Adolescents Initiative through grant number TP2AH000074-01-00 from the U.S. Department of Health and Human Services, Office of Population Affairs.