More than 100 UHM Nursing Graduates Celebrated at 2014 Recognition Ceremony
View photos from the event on Facebook.
More than 1,500 families and friends gathered at the Hawaii Convention Center on May 18, 2014, to celebrate over 100 Spring 2014 graduates from UHM Nursing. Graduates from the Bachelor of Science, RN to BS, Executive RN to BS, Master of Science, Master's Entry, and Doctor of Nursing Practice (DNP) nursing programs participating in this spring's Recognition Ceremony. This year's Recognition Ceremony recognized the first graduate of the newly accredited DNP program, Dr. Brigitte McKale, Chief Nurse Executive and Vice President Patient Services at Pali Momi Medical Center.
Graduating students invited local celebrity Ms. Emme Tomimbang Burns to deliver the keynote address. Tomimbang Burns shared a heartwarming, inspirational message that highlighted her personal experiences of overcoming adversity through care-giving and receiving care as a patient herself. She fondly referred to nurses as "earth angels," crediting them with saving her life. Tomimbang Burns encouraged graduates by reaffirming that the nursing path they are on is critical, stating that "the field is wide open and you can be assured there will always be a need for your expertise." She concluded her speech by reminding graduates to also take care of themselves, saying "you cannot be for your patients, if you are not for yourself first."
Student speakers included undergraduate class president Daven Astrero, master's graduate Jared Medeiros, and DNP graduate Dr. Brigitte McKale. While the student addresses highlighted varying program experiences, all student speakers recognized how essential support from family, friends, UHM faculty and staff, and their peers were to their success. "My classmates have been such a blessing to me because they have made the past three years, the best time of my life – each of you has found a place in my heart," said bachelor's graduate Daven Astrero. Master's graduate Jared Medeiros said, "mahalo to our preceptors – you patiently mentored us, shared your knowledge, and gave us the necessary skills to succeed." Doctor of Nursing Practice graduate Brigitte McKale echoed the appreciation of her fellow speakers and challenged graduates to seize the opportunity before them saying, "as I reflect on the guidance and support I have received during my journey, I realize that I could not have done this alone. Now that the hard work is done, I feel a duty to give back to my community – nurses have much to share both in knowledge and in heart. Now that we have time to spare, let us give back and show our gratitude."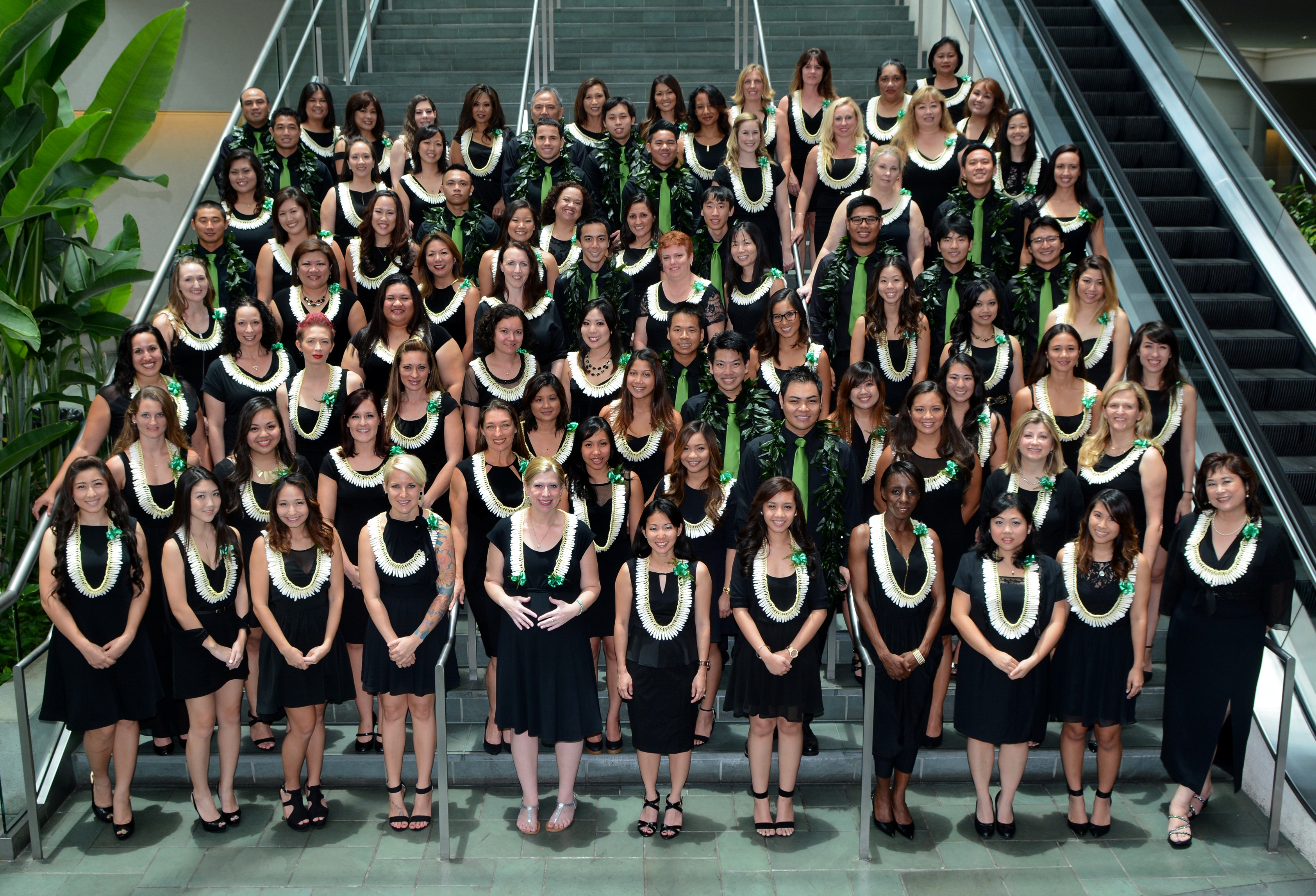 In keeping with the tradition, students invited family members to participate on stage during the pinning ceremony. Each student received a ribbon lei from the School with a UHM Nursing alumni pin affixed to it. UH Manoa Nursing Alumni Association (UHMNAA) Vice President Lori Kaneshige MSN '96, BSN '91, ASN '89, continued a more recent tradition of giving a $250 cash gift to accompany the student-selected Professional Nurse Award presented to Kameron Noyama. Additionally, UHMNAA awarded one-year of complimentary membership to the alumni chapter to each of the student-selected awardees: Daven Astrero, Leadership Award; Doris Lim, Kahiau Award; and Michelle Yamada, Community Service Award. The 2014 DAISY in Training Award for an undergraduate student was presented to Tatjana Nereu in appreciation for her commitment to extraordinary compassionate patient care and her outstanding clinical skills that will make a meaningful difference in the lives of so many people.
The School recognized Jeffrey Tamaye with the Academic Achievement Award in recognition of his outstanding achievement for obtaining the highest cumulative GPA of 4.0 in the class. The Dean's Research Award was presented to DNP student Dr. Brigitte McKale in recognition of her study project titled "Reducing Hospital Re-admissions using a Multi-Modal Evidence-Based Approach" and to undergraduate student Heather Szeles in recognition of her study project titled "Emotional Intelligence and nursing Student Leadership."
The undergraduate students presented UHM Nursing faculty Mr. Brendon Friedman, MS, MBA, RN and Lorrie Wong, PhD, RN with the Nurse Educator of the Year award. The 2014 DAISY Faculty Award was presented to Karol Richardson, PhD, MPH, APRN, in honor of her exceptional impact on students and inspirational influence on their future.
UHM Nursing will celebrate the Fall 2014 graduates at Recognition Ceremony in December 2014. For questions about Recognition Ceremony, please contact Carlyn Okatomi at carlynli@hawaii.eduor (808) 956-0896.