For UH West Oahu Pre-Nursing Students
Program Description
This program admits for the spring semester and gives priority to students currently enrolled in the UH West Oahu Pre-Nursing Pathway. Secondary priority will be given to UH West Oahu students who meet criteria, and thereafter to UH Manoa Pre-Nursing students who reside in Leeward Oahu.
With the Bachelor of Science degree, students are prepared to proceed to graduate education and pursue career development. The Bachelor of Science degree prepares beginning-level generalist professional nurses to deliver care to individuals in a variety of health-care settings and meet the state requirements for eligibility to take the National Council Licensure Examination – Registered Nurse (NCLEX-RN). Potential applicants to the program are highly encouraged to attend an open house event or an informational session. Please see the event page for upcoming events.
Fast Facts
Two-step application process.
Outstanding faculty committed to advancing health care delivery.
Instruction delivered at UH West Oahu with a few simulation events at UH Manoa.
Cohort program designed to be completed in 6 semesters.
Individual academic advising and support throughout the program.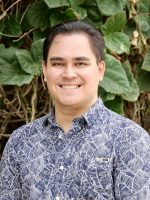 Christopher Waiamau, MBA, MSCJA
Admissions Specialist & Pre-Nursing Advisor
---
Contact for applicants for all Undergraduate Nursing programs and the High School Direct Entry in Dental Hygiene program.
Contact for Pre-Nursing students: UH Manoa, UH West Oahu, Veteran students, and students using VA education benefits.
Nancy Atmospera-Walch School of Nursing
University of Hawaii at Manoa
2528 McCarthy Mall, Webster Hall 201
Honolulu, HI 96822
Ph: 808-956-3794
Fax: 808-956-5977
Schedule an Advising Appointment
via Star Balance