Hawaii Keiki: Healthy and Ready to Learn
A partnership between the UH Manoa Nancy Atmospera-Walch School of Nursing and the Hawaii Department of Education
Hawaii Keiki: Healthy and Ready to Learn Program provides access to school nursing services in Hawaiʻi public schools.  The Hawaii Keiki Program sits at the intersection of education and health to achieve student, school, and system success.
The program is enhancing and building school based health services that screen for treatable health conditions; provide referral to primary health care and patient centered medical home services; prevent and control communicable disease; and provide emergency care for illness or injury.
Students succeed academically when they come to school ready to learn. The evidence is clear that:
Hunger, chronic illness, or physical and emotional abuse, can lead to poor school performance.

Health-risk behaviors such as substance use, violence, and physical inactivity are consistently linked to academic failure and often affect students' school attendance, grades, test scores, and ability to pay attention in class.

School based health programs decrease dismissal from school and are associated with better attendance.
Goals
The program focuses on keeping our keiki healthy and ready to learn by providing access to high quality health and school nursing services in Hawaii's public schools.  The program embraces the following four main goals that drive the program's activities in an effort to keep keiki healthy and ready to learn.  These include:
Reducing health-related chronic absenteeism and minimize interruption to instructional time 

Enhancing wellness in the school environment and community

Promoting optimal student health through preventive screening and effective services for chronic health conditions

Collaborating with community partners and organizations to provide coordinated school health programs, services and resources

Promote the nursing profession
Hawaii's public schools strive to provide the best learning experience possible to prepare students for higher education. A goal of UH Manoa Nancy Atmospera-Walch School of Nursing is to improve the health of Hawaii through education of nurses and service to the people of the state. Hawaii Keiki supports the efforts of the UH Manoa Nancy Atmospera-Walch School of Nursing with the goal of promoting the profession of nursing within public schools and supporting NAWSON students. Together, we are improving the health of our keiki and building student, school and system success to create a bright future for the state.
Contact Info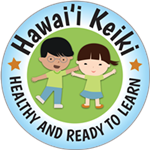 Sign up to Receive Hawaii Keiki News
Subscribe to the Nancy Atmospera-Walch School of Nursing email newsletter to receive information about the Hawaii Keiki Program.