For High School Graduates from the Class of 2023
Program Description
The program offers direct entry to nursing for high school graduates who are dedicated to completing their Bachelor of Science in nursing degree in four years. Students can have confidence that they have been admitted to the nursing program while they complete their prerequisite classes in a cohort-based learning model. Students enter the program in the fall of their freshman year. With the Bachelor of Science degree, the student is prepared to proceed to graduate education and pursue career development.
The Bachelor of Science degree prepares beginning-level generalist professional nurses to deliver care to individuals in a variety of health-care settings and meet the state requirements for eligibility to take the National Council Licensure Examination – Registered Nurse (NCLEX-RN). Potential applicants to the program are highly encouraged to attend an open house event or an informational session. Please visit the event page for upcoming events.
Fast Facts
Two-step application process.
Outstanding faculty committed to advancing health care delivery.
Cohort program designed to be completed in 4 years.
Individual academic advising and support throughout the program.
How to Apply
Fall (August) 2023 Applications Available: September 1, 2022
Deadline: January 5, 2023
Two-Step Application Process
Application Requirements are found in the online applications listed below
Step 1 – Apply to UH Manoa Undergraduate Admissions
Required for all new applicants and returning, transferring, and unclassified UH Manoa students.
Fee: $70
For your major choose Nursing
Step 2 – Apply to Nursing's Centralized Application Service
Application deadlines for NCAS are set to Eastern Standard Time (EST) and will close at midnight EST the date of the deadline.
Required for ALL applicants
Fee: $55 (fee increase effective August 11, 2022)
Select "High School Direct Entry (DEN)" for the Planned Course of Study
Admission Requirements
The school is using a holistic admissions review process. All non-academic criteria is outlined in NursingCAS.
Exam Scores
For prospective freshmen students applying for the 2023-2024 academic year, test scores (SAT or ACT) will be optional. Freshman applicants will have the option of submitting test scores as part of their admissions application.
SAT Scores: Evidence Based Reading and Writing – 560 or higher and Math – 540 or higher OR ACT Scores: Reading – 22 or higher and Math – 22 or higher
Cumulative High School GPA
3.0 or higher at the end of the junior year of high school
English Language Proficiency
If an applicant's native language is not English or if they have not obtained a bachelor's or master's degree from an English-speaking college, then the applicant must submit official Test of English as a Foreign Language (TOEFL) scores with a minimum score of 600.
Continuation Requirements
Successful completion of the freshman year with prerequisite nursing course grades in the nursing program are required to retain status as a direct entry student.
The following conditions must be met:
Note: Applicable to the new incoming (Fall 2023) cohort of DEN students (freshman year)
GPA of 3.0 or higher in every semester
Minimum grade of "B" or higher (not B-) in PHYL lectures, PHYL labs, MICR 130, and FQ
Minimum grade of "C" (not C-) in all other prerequisite courses
Admission to the direct entry program will not be deferred.
Prospective Students Not Applying for Direct Entry
Students who are interested in the nursing program but are not eligible for the direct entry program can enter UH Manoa as a pre-nursing student and apply in fall of their freshman year for admission to nursing. Informational sessions are offered that provide more information about this process. The application process and requirements are discussed in detail to assist interested students in the process. Informational session dates and times will be posted to the event page.
"UH Manoa Nursing's High School Direct Entry Program (HS DEN) gave me the wonderful opportunity to pursue my passion for nursing right after high school. As a kid, I knew I wanted to become a nurse because I enjoyed helping my Mom care for elderly patients in our home. The HS DEN program ensured that I would graduate from nursing school in four years. For me, that meant being able to live my dreams of becoming a nurse four years after high school! The school provided me with the right tools and guidance to be successful despite being young and having just graduated. The state-of-the-art simulation center, diverse clinical experiences, opportunities for leadership and service, and the most supportive faculty have all helped me to make the best out of my student nursing journey and prepared me to become the best nurse I can be!" – Ina Beatrice Deloso, Class of 2019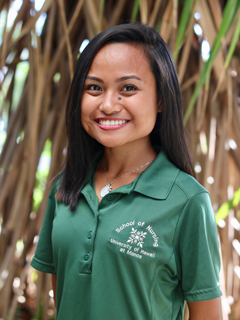 "After completing my first year in the High School Direct Entry in Nursing (DEN) Program, I am so excited to continue my nursing studies and look forward to the opportunities and challenges ahead. My experience in the DEN program was awesome right from the start! The program helped me develop a confident, positive perspective towards my studies and allowed me to discover more about myself. The program also helped me feel connected to other student nurses. We shared experiences, created friendships and supported each other during our freshman year. My professors and counselors are all remarkably supportive. I look forward to what the future will bring and I'm so glad to be a part of the DEN program." – Cameron King, High School Direct Entry in Nursing Program student, Class of 2022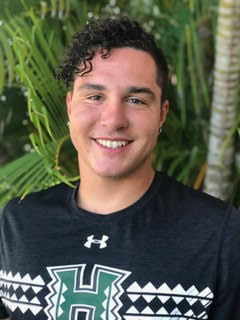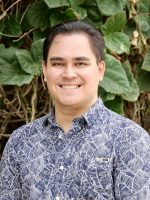 Christopher Waiamau, MBA, MSCJA
Admissions Specialist & Pre-Nursing Advisor
---
Contact for applicants for all Undergraduate Nursing programs and the High School Direct Entry in Dental Hygiene program.
Contact for Pre-Nursing students: UH Manoa, UH West Oahu, Veteran students, and students using VA education benefits.
Nancy Atmospera-Walch School of Nursing
University of Hawaii at Manoa
2528 McCarthy Mall, Webster Hall 201
Honolulu, HI 96822
Ph: 808-956-3794
Fax: 808-956-5977
Schedule an Advising Appointment
via Star Balance