The Bachelor of Science degree prepares beginning-level generalist professional nurses to deliver care to individuals in a variety of health care settings and meet the state requirements for eligibility to take the National Council Licensure Examination – Registered Nurse (NCLEX-RN).
Bachelor of Science (BS) in Nursing Degree Program
High School Direct Entry in Nursing
Fall (August) Admission only
This full-time cohort program admits high school graduates who will complete their Bachelor of Science in nursing degree in four years. With direct entry into our nursing program, a student's academic path is secure.
Traditional Bachelor of Science in Nursing
Fall (August) Admission only
This full-time program admits current UH Manoa, Pre-Nursing, transfer, and veteran students.
UH West Oahu Pre-Nursing to UH Manoa Bachelor of Science in Nursing
Spring (January) Admission only
This full-time program gives priority to current UH West Oahu Pre-Nursing students. Secondary priority will be given to UH West Oahu students that meet criteria, and thereafter to UH Manoa Pre-Nursing students that reside in Leeward Oahu.
Online RN to Bachelor of Science in Nursing
Fall (August) and Spring (January) Admission
This part-time and full-time online, on-demand program admits ADN and diploma graduates. The program builds upon their current nursing degree with coursework to enhance professional development and achieve a BS degree.
Program Outcomes/Competencies
The AACN Essentials of Baccalaureate Education for Professional Nursing Practice provides the framework for the preparation of baccalaureate prepared professional nurses (AACN, 2008). Copies or versions in other languages are available at the AACN Essentials website. Planning is underway to transition the curriculum to address the 2021 AACN The Essentials: Core Competencies for Professional Nursing Education.
Bachelor of Science in Nursing
A competent nurse:
Demonstrates professional actions based on core nursing values, professional standards of practice, and the law.
Develops insight through reflective practice, self-analysis, and self care.
Engages in ongoing self-directed learning and provides care based on evidence supported by research.
Demonstrates leadership in nursing and health care.
Collaborates as part of a health care team.
Practices within, utilizes, and contributes to the broader health care system.
Practices client-centered care.
Communicates and uses technology effectively.
Demonstrates clinical judgment/critical thinking in the delivery of care of clients.
Events for Prospective Students
Potential applicants are highly encouraged to attend an open house event or an informational session. Visit the event page for upcoming events.
Contact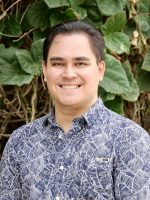 Christopher Waiamau, MBA, MSCJA
Admissions Specialist & Pre-Nursing Advisor
---
Contact for applicants for all Undergraduate Nursing programs and the High School Direct Entry in Dental Hygiene program.
Contact for Pre-Nursing students: UH Manoa, UH West Oahu, Veteran students, and students using VA education benefits.
Nancy Atmospera-Walch School of Nursing
University of Hawaii at Manoa
2528 McCarthy Mall, Webster Hall 201
Honolulu, HI 96822
Ph: 808-956-3794
Fax: 808-956-5977
Schedule an Advising Appointment
via Star Balance