Sigma Theta Tau International spring 2018 and spring 2019 ceremonies
Sigma Theta Tau International (STTI) is a nursing honor society founded in 1922 and consists of more than 135,000 active members across more than 90 countries whose mission is to "support the learning, knowledge and professional development of nurses committed to making a difference in health worldwide." From its inception, STTI has valued excellence and scholarship; it was the first U.S. organization to fund nursing research.
STTI consists of more than 500 chapters. The local (Hawaii) chapter, Gamma Psi-At-Large Chapter, held its first induction ceremony in April 1992. Its most recent Hawaii statewide induction ceremony was held, this past spring on April 20, 2019 and took place at UH Manoa. The spring 2018 Gamma Psi-At-Large Chapter induction ceremonies took place at the Filipino Community Center on Mokuola Street in Waipahu, Hawaii.
The guest speaker, Brigitte McKale, Chief Nurse Executive and VP of Patient Services at Pali Momi Medical Services, and UH Manoa Nursing DNP graduate, provided a compelling keynote address titled "Changing Lives and Advancing."
The following list consists of all University of Hawaii at Manoa inductees for spring 2018 and 2019. Those who were able to attend, took their oath as members after receiving their membership certificates and purple and white cords.
The Honor Society of Nursing, Sigma Theta Tau International offers many opportunities to enhance the membership experience via the vast resources it provides (e.g., online books, career tools, educational opportunities, leadership development, and periodicals). With its grant-offering partners, it supplies more that $200,000 annually for conducting nursing research.
The 2019 research grant recipient was Morgan Torris-Hedlund, a former UH Manoa faculty member and graduate of the UH Manoa Nursing PhD program. UHM Nursing graduate student Uliana Kostareva and undergraduate student Jarek Garcia were the recipients for the 2019 awards. Graduate student Elizabeth Hadden and undergraduate student Ashley Asuka were the recipients for the 2018 awards.
For more information about Sigma Theta Tau, how to become a member or how to make the most out of your membership, please contact the UHM counselor, Frankie B. Hale at halef@hawaii.edu.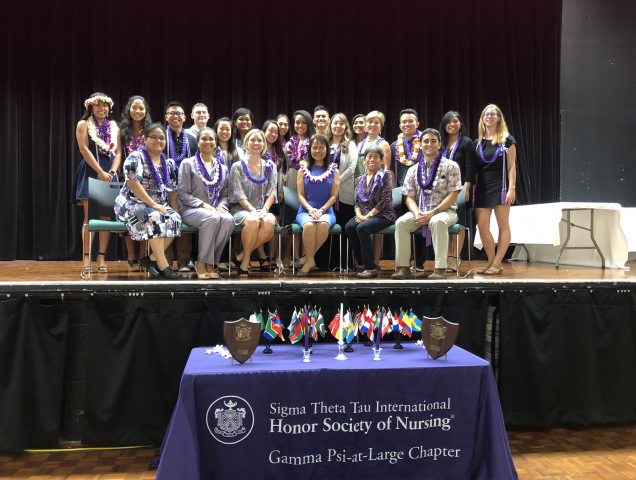 Spring 2019
Skyler Cristina Adzuara

Liberty Anne Rapanut Alconis

Kelly Ann S.V Bayudan

Jordan Anthony Bayudan

Rand Bennett

Kemp-Kyt Soria Burgonio

Christopher Ivan Davis

Shaynie Raye Yukie Fukuda

Hannah Tomika Fukushima

Jody Lynne Gooding

Isis Yasmeen Harper

Mandy Lee Mero Hu

Paige Tommie Huynh

Nicholas Hideo Ige

Darlene Aguinaldo Jarquio

Brent Katsumi Kuroiwa

Dan Rebb Leano

Leilani Ramos Luis

Michael Gabriel Hallado Madayag

Doreen Tomi Nakamura

Huong Quynh Diem Nguyen

Jeanette Pascua Pasalo

Carolyn Fae M. Pascua

Wilfred Martin Pascual

Kristina Duran Ricote

Charles William Ruiz

Linsey Ann Sekulich

Betty Wunda Tamayo

Alyssa Cachola Tabin

Kira Ann Vitella
Spring 2018
Alaina Abbott

Adeline Rohitasuke Adachi

Geryll Anthony Agno

Kyoko Akimoto

Molly M. Alexander

Chelsea Emma Apo

Ashley Asuka

Lilly Katherine Azouz

Lian Bonilla Balmores

Kelsi Nicole Miguel Baltazar

Lisa Bell

Jennifer Lynn Bello

Michele Lani Bray

Nathasia Rapanut Cabreros

Narelie Domingo Calley

Melissa N Canite

Raymart Javar Cortez

Matthew Daems

Ina Beatrice Aguinaldo Deloso

Nicole Donelson

Jeff Aguilar Fernandez

Madison Furlong

Marella Lianne Galace

Wynter Leilani Galway-Severtson

Gretchen Ganitano

Jarek Garcia

Kenna Gardes

Mary Guo

Alexandria Carolyn Gutmanis-Burian

Elizabeth Hadden

Cassidy Hamaoka

Brandi Hayase

Charles Larry Haygood

Mason Sadatake Higa

Kelsie Kiyomi Higuchi

Naomi Aleina Hill

Amy K Kanemitsu

Lexi Keiko Kaneshiro

Shannon Keen

Kari Akiko Kimura

Jessica Joan Klemm

Travis Isamu Gee Keong Koito

Uliana Kostareva

Darien Christian Lau

Angella Lynn Ligon

Fejiereich Luz Tandoc Lopez

Garrett Saisho Park

Kristye Valeriana Barbosa Perez

Kathryn Arabella Perry

Michelle Quensell

Angelika Celia Questin

Ann Jillian Quiocho

Lyanna Charise Tolentino Raquepo

Carissa Lani Ratte

Christy Jenna Rios

Karen J Rowan

Hanna Nicole Siew

Ruthe Simon-Umil

Kylie Styner

Mika Tanji

Nessah Kae Teixeira

Kiki Malia Thurston

Marcelino Ulep

Ginny Herolyn Victor

Shania Weiss

Michael Keith Williams

Kristen Marie Wolf

Steven Keone Young