Sigma Theta Tau International Spring 2023
Written by: Frankie Hale
Sigma Theta Tau International (STTI) is a nursing honor society founded in 1922 and consists of more than 135,000 active members across more than 90 countries whose mission is to "support the learning, knowledge and professional development of nurses committed to making a difference in health worldwide." From its inception, STTI has valued excellence and scholarship; it was the first U.S. organization to fund nursing research.
Sigma Theta Tau International consists of more than 500 chapters. The Hawaii chapter, Gamma Psi-At-Large Chapter (The Chapter), held its first induction ceremony in April 1992 and continues with this tradition.
The following list consists of all University of Hawaii at Manoa inductees:
Spring 2023 (38)
Abigail Saraiah Abuluyan Alcaraz
Eden Au
Charize Balignasay
Sarah Marie Barrientos
Angelica Jacob Barroga
Sophia Kathryn Cendro
Aja Makalapua Keiko Correa
Anna Marie Michiko Correa
Ashley Davis
Theresa Ann Dao-Nakamatsu
Jennifer De Jesús
Andrei Luis Ereno
Kathleen Hollins
Danielle Ikeda
Marissa Haruko Iwahashi
Charnelle Basilio Julian
Elizabeth Eseul Kang
Kristi Koplin
Robert Eric Lange
Louis Leveni Langi
Rochelle Anne Gonzales Lopez
Kyra Anne Juan Martinez
Kelson K. Oshiro
Erwin Torre Padigos
Cherry-Anne G Parubrub
Chrissie Pimentel
Brooke Michi Protacio
Melanie Calpito Rabago
Ericka Ronduen
John Hirokazu Sasaki
Erica Sudimak
Kahaili Leslie Tovey
Julia Kaimana Tsuzaki
Montana Rae Leialoha Keaunui Vaught
Keoni Williams
Ann V Yang
Melanie Yang
Melanie Yuen
Katarina Elizabeth Zierke
In Spring 2023, Dean Clementina Ceria-Ulep and the University of Hawaii at Manoa (UHM) Taskforce (Dr. Alice Tse, Department Chair; Dr. Katherine Finn Davis, Specialist & Director for Community Partnerships; Dr. Gary Glauberman, UHM Vice President of Gamma Psi-At-Large Chapter; Dr. K. Uilani Chow-Rule UHM Faculty, Dr. Michele Bray UHM Faculty, Dr. Deborah Mattheus UHM Faculty, and Miss. Mikiala Maynard and Miss. Brittney Kawahara (Student Representatives) supported The Chapter's counselor immensely during the induction process.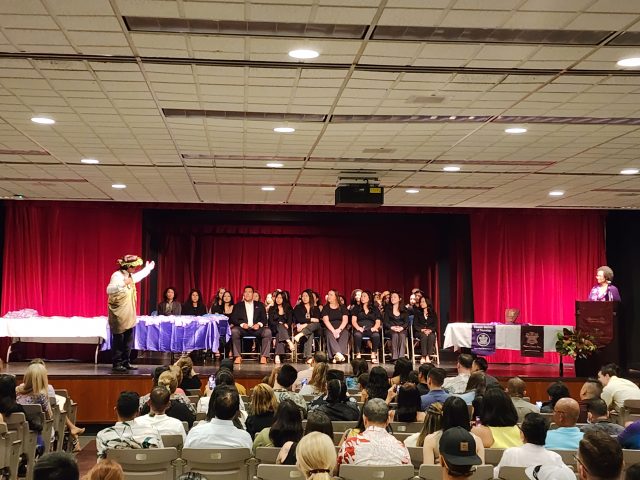 The Honor Society of Nursing, Sigma Theta Tau International, offers many opportunities to enhance the membership experience via its vast resources (e.g., online books, career tools, educational opportunities, leadership development, and periodicals). In addition, with its grant-offering partners, it supplies more than $200,000 annually for conducting nursing research.
If you are interested in learning more about Sigma Theta Tau, how to become a member or how to make the most out of your membership, please get in touch with the UHM counselor, Dr. Frankie B. Hale, at halef@hawaii.edu.