UH Manoa Nursing Spring Outreach Events for High School Students
Farrington High School Health Academy Students Visit UH Manoa Nursing
Approximately 40 Farrington High School Health Academy students visited UH Manoa Nursing on Saturday, January 27, 2018. The Farrington High School Health Academy is a three-year program aimed at preparing students for post-secondary studies in a career in health services. The students, accompanied by their health academy teachers and advisors, were given the opportunity to tour the UH Translational Health Science Simulation Center and experience hands-on simulation activities. In addition to the tour and activities, the health academy students interacted with UH Manoa Nursing's Student Ambassadors who provided insight into life as nursing students.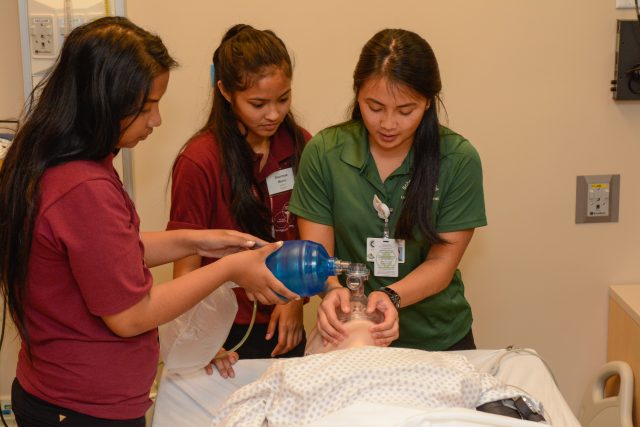 Campus-Wide Open House for High School Students
UH Manoa Nursing participated in the annual UH Manoa Experience event held on Saturday, March 3, 2018. This free campus-wide open house brought thousands of high school students and families from around the state, as well as the mainland to the Manoa campus. UH Manoa Nursing faculty, staff and Student Ambassadors were available to greet visitors and answer questions from prospective students and their parents. Additionally, the UH Translational Health Science Simulation Center offered group tours throughout the event.
Options in Health Professions for Farrington High School Health Academy
Farrington High School's Health Academy students returned to UH Manoa campus on April 12, 2018 for an introduction into the wide range of health careers. Approximately 50 students and their chaperones participated in an interactive presentation, which highlighted each health profession participating in the event, and illustrated how all of them are connected and necessary to provide comprehensive health care. The health professions represented along with Nursing were Communication Sciences and Disorders, Kinesiology and Rehabilitation Science, Medical Technology and Laboratory Science, Pre-Veterinary Medicine, Public Health and Social Work. Following the presentation, the students were split up into small groups where they could hear directly from each health profession's representative to learn more about the profession and educational pathways.
The High School Direct Entry into Nursing Program admits students every fall. For questions about outreach events, please contact Carlyn Minster at carlynli@hawaii.edu.