Katherine Finn Davis, PhD, RN, APRN, CPNP, FAAN
Director for Community Partnerships & Specialist
School of Nursing and Dental Hygiene
2528 McCarthy Mall, Webster Hall 410
Honolulu, HI 96822
Phone: (808) 956-5421
Fax: (808) 956-3257
Email: kfdavis@hawaii.edu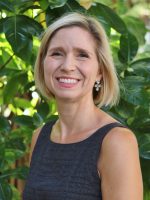 ---
Biography
Dr. Davis has over 25 years of experience as a pediatric nurse, nurse practitioner, and researcher. At the University of Hawaii, she is committed to developing collaborative relationships between universities, healthcare systems, and government agencies to implement strategic responses to community and nursing workforce needs while engaging community organizations to inform program offerings and curricula. She is skilled and passionate about leading interprofessional teams to implement research and evidence to inform clinical practice at the bedside and in the community to improve health outcomes and quality of care.
Her research interests include the effects of disrupted sleep on health outcomes, with a special interest in behavioral sleep disorders, as well as implementing innovative approaches to embed evidence based practices in healthcare settings. She has published peer-reviewed research articles, book chapters, and lay publications and received many writing awards. She serves as peer reviewer for numerous nursing and medical journals and has spoken nationally about her research and evidence based practice endeavors.
Dr. Davis is a fellow of both the American Academy of Nursing and the National Association of Pediatric Nurse Practitioners and a member of Sigma Theta Tau International.
---