Fall 2016 Faculty Highlights
STUDENTS IMPRESS SENIOR CITIZENS WITH CHAIR ZUMBA AND AND MASSAGES
First semester nursing students in N210, taught by Bill Siegman, participated in a health fair on November 3, 2016, at the Lanakila Multi-Purpose Senior Center. The fair was well received by all of the senior citizens who attended. Nursing students provided educational activities on topics such as blood pressure, nutrition, hepatitis A, chair Zumba and hand massages. The chair Zumba exercise (seated) and the hand massages were by far the most popular activities.
Riva Torno, program specialist for the Lanakila Multi-Purpose Senior Center stated in a letter to the school, "We deeply appreciate the work that you and your students do to ensure that the seniors are able to receive important health information, participate in exercise, and provide blood pressure screenings. The students all did an excellent job! The seniors also enjoyed being able to converse with the students."
The health fair is an event that UH Manoa Nursing students enrolled in N210 participate in every year. For more information about the health fair, contact Bill Siegman at siegman@hawaii.edu or (808) 956-3457.
DR. ALBRIGHT FEATURED ON NPR'S PUBLIC HEALTH MINUTE
Dr. Cheryl Albright, professor at UH Manoa Nursing, was featured on National Public Radio's segment Public Health Minute. The study she presented was designed to help new mothers become more physically active.
Most (70-80%) of postpartum women fail to meet national guidelines for moderate-to-vigorous physical activity (MVPA). The Na Mikimiki study, translated as "the active ones," tested the effectiveness of a 12-month tailored intervention to increase MVPA in women with infants 2-12 months old at enrollment.
From 2008 to 2012, women with infants from Honolulu were randomly assigned to either a tailored intervention group or to an information-only comparison group. Women were followed for 12 months to monitor their activities. Mothers in the tailored intervention group received up to 17 personalized telephone calls from health educators who helped them set goals, seek social support, identify and problem solve barriers to being physically active. The comparison group received access to an existing website that contained resources on how to be more active from national organizations such as the American Heart Association and the Centers for Disease Control and Prevention. However, these resources were "generic" and, thus, not tailored to issues relevant to new mothers.
Both groups completed surveys over the 12 months and also wore a device (accelerometer) that objectively recorded minutes of physical activity/movement during the day.  Results showed that the tailored condition significantly increased MVPA.
Dr. Bill Latimer, Professor and Dean of The School of Health Sciences, Human Services and Nursing at Lehman College, The City University of New York (CUNY) is the host of the NPR segment. During the month of September this segment was also featured on a number of NPR stations across the U.S. including: Alabama, Montana, Florida, Minnesota, Mississippi, Illinois, Alabama, Wisconsin and Texas. Audio for Dr. Albright's segment that first aired on Sept 15, 2016 can be heard online.
For more information, see the article published in the journal: Preventive Medicine – see: Albright CL, Steffen AD, Wilkens LR, et. al.  Effectiveness of a 12-month tailored multimedia randomized trial to increase physical activity in multiethnic population of postpartum women: Hawaii's Na Mikimiki Project.  Preventive Medicine. 2014.  Oct 5, 69C:214-223. Dr. Albright can be reached at cherylal@hawaii.edu or (808) 956-9716.
DR. CODIER PUBLISHES TEXTBOOK ABOUT MULTI-USER VIRTUAL ENVIRONMENTS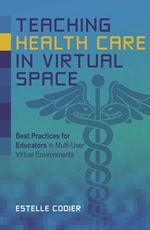 Teaching Health Care in Virtual Space is the first "how-to" manual for health educators on the instructional use of three-dimensional, computer-generated virtual environments that can be inhabited simultaneously by many participants; commonly called "multi-user virtual learning environments" or MUVE. Based on her experience supervising more than 400 learning activities in Second Life®—as of 2014, the largest public (free) MUVE—Dr. Estelle Codier has written a step-by-step handbook for novice and experienced MUVE teachers alike. The book provides those new to virtual teaching with specific steps to assess their own instructional readiness, guidance for assessing student and class readiness, as well as detailed descriptions of problem prevention and solutions. The text is accompanied by lively case studies of both success and failure in virtual learning environments. Inspiring stories of student learning illustrate the power of MUVE to transform health care education.
This innovative handbook presents an extended discussion of the pedagogical advantages for learning in multi-user virtual environments, along with a history of learning in Second Life®. The text includes an appendix of supporting materials for MUVE learning activities: evaluation grids, grading matrices, syllabus descriptions, and detailed orientation materials for both faculty and students. While the sample learning activities were designed for nurses, instructors in other disciplines could easily adapt them for use in any MUVE setting.
For more information about the textbook or to purchase it online, visit http://www.uhpress.hawaii.edu/p-9706-9780824858001.aspx. Contact Dr. Estelle Codier at codier@hawaii.edu.