Deborah Mattheus, PhD, CPNP, APRN-Rx
Assistant Professor
School of Nursing and Dental Hygiene
2528 McCarthy Mall, Webster Hall 437
Honolulu, HI 96822
Phone: 808-956-8426
Fax: 808-956-3257
Email: mattheus@hawaii.edu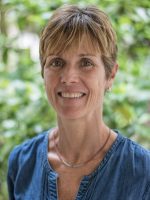 ---
Biography
Dr. Mattheus has over 25 years of experience as a certified pediatric nurse practitioner and more than a decade of experience as a nursing educator. She is currently involved in the education of advanced practice nursing students at UHM Nursing. Dr. Mattheus serves on a variety of school and community committees including serving as an active member on the Oral Health Advisory Board. In addition, she has served as a Pediatric Asthma Trainer by the National Association of Pediatric Nurse Associates and Practitioners.
Her research is focused on improving oral health outcomes pregnant women, infants and children. She has been invited nationally to speak on oral health and changing parent's oral health beliefs and behaviors in primary care practice. Dr. Mattheus was a recipient of the Achievement Rewards for College Scientists (ARCS) Scholarship, Honolulu Chapter for her doctoral research study on the prevention of early childhood caries in primary care practice. She is an editorial board member for the Journal of Dental Problems and Solutions and the International Journal of Oral and Dental Health.
---
Education
PhD, University of Hawaii at Manoa
MSN, Simmons College, Boston, MA
BSN, American International College, Springfield, MA
---
Clinical Practice
Pediatric Primary Care, Pediatric Rheumatology and Immunology
---
Teaching Focus
Pediatric Health Care
---
Research Focus
Vulnerability of children, early childhood caries, changing parent's oral health beliefs and behaviors, Perinatal and infant oral health
---
Recent Publications
Mattheus, Deborah PhD, MSN, PNP; Gandhi, Krupa MPH; Lim, Eunjung PhD; and Shannon, Maureen CNM, FNP, PhD (2017) "Exposure to Secondhand Smoke and the Development of Childhood Caries: NHANES (2011-2012)," Journal of Health Disparities Research and Practice: Vol. 10 : Iss. 2 , Article 5.
Mattheus, D., Shannon, M., Lim, E., Gandhi, K. (2016). The Association Between Socio-demographic Factors, Dental Problems and Preterm Labor for Pregnant Women Residing in Hawai`i. Hawaii Journal of Medicine and Public Health. 75(8), 219-227.
Hayes, D., Turnure, M., Mattheus, D. & Shannon (2015). Predictors of Dental Cleaning over a two-year time period around pregnancy among Asian and Native Hawaiian or Other pacific Islander race subgroups in Hawaii, 2009-2011. Hawaii Journal of Medicine and Public Health. 74(10), 4-9.
Mattheus, D. & Shannon, M. (2015). Oral Health Outcomes for Children in Hawaii: Not Much to Smile About. J Dental Probl and Solut. 2(3): 114. doi: 10.17352/2394-8418.000014
Mattheus, D. & Mattheus, C. (2014). Saving one smile at a time: Oral Health Promotion in Pediatric Primary Care Practice. Open Journal of Nursing. 4, 402-408. http://dx.doi.org/10.4236/ojn.2014.46046
Mattheus, D. (2014). Efficacy of Oral Health Promotion in Primary Care Practice: Creating Positive Changes in Parent's Oral Health Beliefs and Behaviors. Oral Health and Dental Management. 13, 584. doi: 10.4172/2247-2452.1000584
Mattheus, D.J. (2010). Vulnerability related to oral health in early childhood: a concept analysis. Journal of Advanced Nursing, 66(9), 2116–2125. doi: 10.1111/j.1365-2648.2010.05372.x.
Niederhauser, V.P. & Mattheus, D.J. (2010). The Anatomy of Survey Questions. Journal of Pediatric Health Care, 24(5), 351-354. doi:10.1016/j.pedhc.2010.04.013
---
Funded Grants
Predoctoral Training in General, Pediatric, and Public Health Dentistry and Dental Hygiene
U.S. Department of Health and Human Services, Human Resources and Services Administration
Funded for 2017 to 2022 for $1,500,000
Principal Investigator
Improving Oral Health Outcomes for Pregnant Women and Children in Hawai`i
Hawaii Dental Service Foundation
Funded for 2015 to 2016 for $120,059
Principal Investigator