May 2014
MULTIMEDIA AND INSTRUCTIONAL DESIGN TEAM CREATES A WEB BASED SOLUTION FOR THE OFFICE OF STUDENT SERVICES
The Office of Student Services periodically conducts CPR certification classes for the Department of Nursing.  They were challenged by getting participants to complete a paper based pre-test prior to attending the class.  Alex Cam Liu of Nursing's Multimedia and Instructional Design Team met with Michael Kurihara of the Office for Student Services to develop a web based solution called The School of Nursing at UH Manoa CPR Pre-Test.  This is a 15 item multiple choice quiz on entry level CPR knowledge.  The user must answer each question correctly before moving on to the next item.  After completing the quiz, a certificate of completion is presented that a user can print and bring to the CPR training.
Visit the CPR Pre-test:
http://bit.ly/cprquiz
Screen shot of login screen and example of certificate.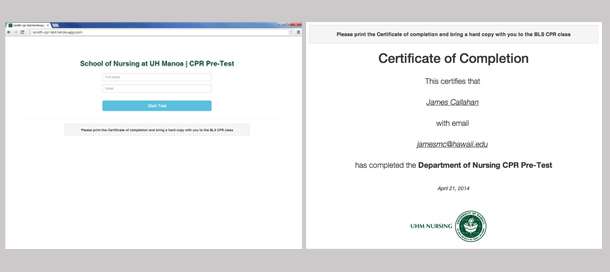 CONFERENCE ROOM COMPUTER OPERATING SYSTEM UPGRADE
With the end of Microsoft's support of Windows XP we have upgraded the operating systems in the conference rooms (Webster 205, Webster 423, Webster 430). They all now have Windows 7 as the operating system (OS). The hardware in each room was still sufficient to run the newer OS so we were able to just upgrade the software and use the existing hardware.  Along with the upgrade we also updated all software and
ensured that the security software
was maintained and up to date.
f you have any questions about the conference room technology, please contact NAWSON Information Systems at 956-0981 or by email at sondhis@hawaii.edu.
LAULIMA TRAINING VIDEOS – MS. RACHEL AND BUZZ
During the semester the Multimedia and Instructional Design Team has created some videos to help with Laulima training. Below are the episodes of Ms Rachel and Buzz.
Do you have a topic you'd like to discuss with Buzz?  Let him know by emailing the NAWSON Multimedia and Instructional Design Team at midteam@hawaii.edu
Latest episode: