First Expanded Function Dental Hygiene Graduates Present at Conference
The first students of the new Advanced Professional Certificate for Expanded Function Dental Hygiene (EFDH) in Pediatrics program graduated in May 2019. Registered dental hygienists Christen Coloma, Jessica Lozano and Gerraine Hignite were the first students to complete the program. These EFDH graduates participated in the 2019 Dental Hygiene Recognition Ceremony along with Bachelor of Science of Dental Hygiene graduates.
The Advanced Professional Certificate EFDH in Pediatrics program was created in 2017 with the support from HRSA grant funding. The program provides dental hygienists with an opportunity to gain specialized education in pediatric oral health promotion and disease prevention. The nine-month program includes 16 course credits and 405 clinical hours with a focus on providing services to children in community setting and those living in rural/underserved areas.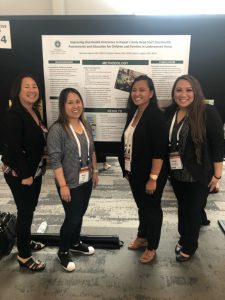 This year, the three EFDH students had direct contact with more than 700 keiki. They provided dental care and/or education in numerous settings including head start clinics, federally qualified health center's (FQHCs), school-based health clinics and the Hawaii Youth Day event.
The students submitted the abstract for their joint capstone project "Improving Oral Health Outcomes in Hawaii: Early Head Start Oral Health Assessments and Education for Children and Families in Underserved Areas" to the 2019 American Dental Hygiene Association Conference. The students attended and presented their projects at the conference in Kentucky.
For more information about the EFDH program, contact Kristine Osada, RDH, BSDH, Med, dental hygiene program administrator and instructor at kmsato@hawaii.edu or (808) 956-8821.