5-Year HRSA Grant Supporting Nursing Student Veterans Concludes
The Veterans to Nurses Program at UH Manoa Nursing concluded its 5-year HRSA grant "UHM Veterans Achieving a BS in Nursing – A Veterans' Initiative Program." The program aimed to serve student veterans enrolled in the nursing program. However, that reach was soon expanded to serve student veterans across the UH Manoa, UH Maui College, Kauai Community College, and Kapiolani Community College as well. The program also helped to form long-term relationships and established successful events that the UH Manoa Office of Veteran Student Services plans to continue in the future, such as the Veterans Day Celebration.
In total, program and scholarship funding was received from Health Resources and Services Administration (HRSA) ($1,397,888), May and Stanley Smith Charitable Trust ($110,000) and other UH Foundation grants.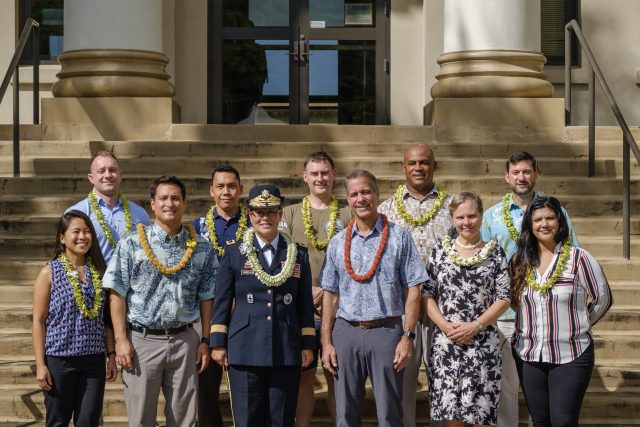 Key program initiatives and outcomes included:
Produced a 5-part video workshop series: "What You Need to Know About Student Veterans." This served to increase teaching faculty awareness of student veterans' unique needs and provided tools for veteran-friendly classrooms.
Worked with UH Manoa to establish a director position for the Office of Veteran Student Services to provide academic and social support to all student veterans. This position is currently held by Kenith Scott, who is a veteran.
Established the annual Veterans Day Celebration event for UH Manoa, which has increased in size each year for the past 5 years.
Recognize student veterans at graduation via verbal acknowledgement and use of red, white and blue graduation cords.
Furnished a Student Veterans Lounge located in UH Manoa Saunders Hall, to provide a place for gathering and social support. Currently, there are nearly 200 visits to the veterans lounge each week.
Implemented recruitment initiatives to increase the number of student veterans enrolled in the UH Manoa Nursing Bachelor of Science program.
Provided $187,095 in scholarships to 43 nursing student veterans enrolled in nursing programs across the UH system.
As an acknowledgment of UH Manoa Nursing's commitment to supporting student veterans, the UH Manoa Office of Veteran Student Services recognized the program's principal investigator, Dr. Kristine Qureshi with the 2019 Outstanding Student Veteran Faculty & Staff Award.
For more information about the Veterans to Nurses Program, contact Jennica Baldonado, BA, vetnurs@hawaii.edu or (808) 956-8452. For more information about the Office of Veteran Student Services, contact Kenith Scott, MPA, Director, kenith@hawaii.edu or (808) 956-2192.