Spring 2019 Recognition Ceremony Celebrates Graduates
More than 900 families and friends gathered at the Hawaii Convention Center on May 12, 2019, to celebrate 95 fall 2018, spring 2019 and summer 2019 graduates from UHM Nursing at the 2019 Recognition Ceremony. Graduates from the Bachelor of Science: Hawaii Statewide Nursing Consortium and RN to Bachelor of Science, Master of Science, Doctor of Nursing Practice (DNP), and Doctor of Philosophy (PhD) nursing programs participated in this year's Recognition Ceremony.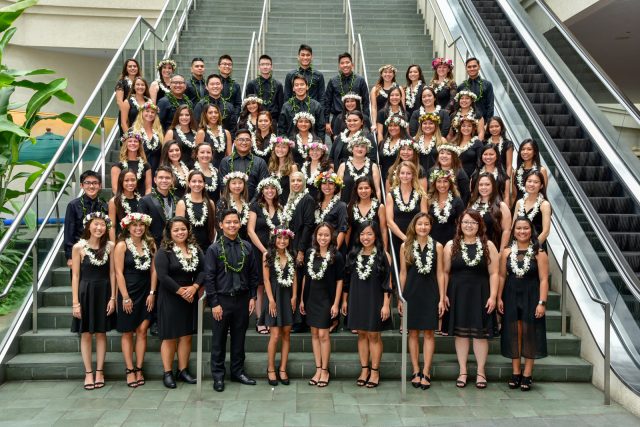 The students selected William Siegman, MSN/ED, RN, UHM Nursing instructor and UHM Nursing alumnus, to deliver the keynote address. Student speakers were BS graduate Molly Alexander and MS graduate Eric Lee.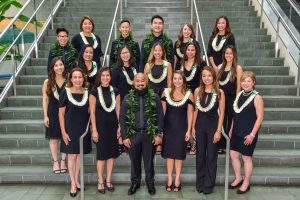 In keeping with tradition, students invited family members to participate on stage during the pinning ceremony. Each student received a ribbon lei from the School with a UHM Nursing alumni pin affixed to it. UH Manoa Nursing Alumni Association (UHMNAA) Vice President Darlene Nakayama, MS, BS, RN, CRRN, CCHO, LNHA continued a more recent tradition of giving a $200 cash gift to accompany the baccalaureate student-selected Professional Nurse Award presented to Molly Alexander, as well as the advanced degree faculty-selected Liko A'e and Ko'o Kua Awards. The recipient of the Liko A'e Award was MS graduate Marissa Dela Cruz and MS graduate Jayson Corrales received the Ko'o Kua Award. Additional baccalaureate award recipients were: Krystal Mae Bonilla, Brandi Kusumoto and Kiki Thurston – Leadership Award; Ina Beatrice Deloso – Kahiau Award; Jarek Garcia – Community Service Award; Desiree Sabugo – DAISY Award for Extraordinary Nursing Students; Linsey Sekulich and Shania Weiss – Academic Achievement Award.
The Dean's Scholarly Project Award was awarded to PhD graduate Gary Glauberman in recognition of his study project titled "Factors Influencing Fire Safety and Evacuation Preparedness Among Residential High-Rise Building Occupants"; DNP graduate Liane Fujita in recognition of her study project titled "Reducing Non-Actionable Physiological Alarms in the Emergency Department"; MS graduate Jeffrey Viernes in recognition of his study project titled "Enhancing the Awareness and Competency of Emergency Department Nursing Staff on Pressure Injury Prevention at The Queen's Medical Center West Oahu"; and BS graduate Lilly Azouz in recognition of her study project titled "Congruence Between Injection Drug User Clients' and Providers' Perspective of Wound Care."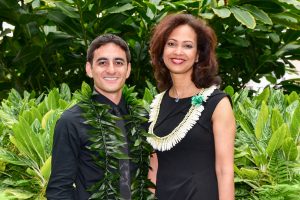 The undergraduate students presented UHM Nursing faculty William Siegman with the Nurse Educator Award in recognition of his respect and dedication to student success. Gary Glauberman, PhD, RN, PHNA-BC, NHDP-BC, Advanced Population Health Nursing Program Director & Assistant Professor, was the recipient of the faculty-selected DAISY Award for Extraordinary Faculty, in honor of his exceptional impact on students and inspirational influence on their future.
Additionally, Gary Glauberman received the Hookele Award for graduate faculty recognizing his consistent engagement in guiding and supporting graduate nursing students. The award is student-nominated and committee-selected.
UHM Nursing will celebrate 2019-2020 graduates at a Recognition Ceremony in May 2020. For questions about Recognition Ceremony, please contact Carlyn Minster. View event photos from Recognition Ceremony 2019 on Flickr.