Carolyn Constantin Named 2018 UH Board of Regents' Medal of Excellence in Teaching Award
On Friday, April 27, 2018, Carolyn Constantin, PhD, RNC, Associate Professor, was awarded the Regents' Medal for Excellence in Teaching by the Board of Regents as tribute to faculty members who exhibit an extraordinary level of subject mastery and scholarship, teaching effectiveness and creativity and personal values that benefit students.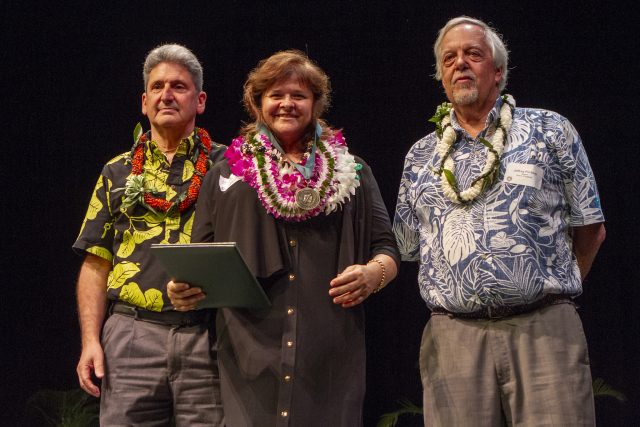 Constantin's core elements of teaching and learning are comprised of their reciprocal nature; the effectiveness of hands-on experience and the significance of relationships in teaching and learning. These elements are present whether Constantin is leading teams of national and international professionals in nursing education or teaching her fields of research in genetics, genomics and pathophysiology at Manoa. Her presence is described by colleagues and students as passionate, inspiring, engaging, energetic, humorous and interesting.
Constantin diversifies learning activities to reach a wide range of learners and expanded her repertoire of teaching practices and formats from classroom to online by earning a graduate level certificate in Online Learning and Teaching in the Learning and Design Technology Department.
UH Manoa Nursing congratulates Constantin on this esteemed recognition. Visit UH Manoa Awards for more information.