For U.S. Veterans
Nursing Career Tracks
Nursing is a profession that offers multiple and exciting career tracks. Nurses can choose to stay at the bedside, work in the community, serve in the board room, teach others, or do research. There are various nursing specialties ranging from working with a variety of populations across the lifespan, from neonates to the elderly.
Beyond the Bachelor's degree, educational opportunities include a:
Master's degree

Post-master's certification in additional specialty areas
Board certification as an Advanced Practice Registered Nurse

Doctor of Nursing Practice degree
PhD in Nursing degree
Nursing Employment Opportunities
Given the aging of our population, expanded access to healthcare offered by the Affordable Care Act, and age of the current nursing workforce, it is anticipated that the demand for nurses will exceed capacity in all specialty areas, across the lifespan, and in settings from acute care, outpatient care, home health, and the community.
Program Description
The program is designed to facilitate veteran student success in the nursing program from admission to graduation and beyond. The program aims to increase the number of BS prepared nurses in Hawaii, improve employment opportunities for veterans, and provide support services. Veteran students participating in the Veterans to Nurses program may enroll in any of the UH Manoa Nursing pathways. Veterans with military medical training and experience may be able to receive academic credit towards completion of a nursing program with the goal to decrease time to graduation.
"In 2009, I joined the U.S. Navy and served our country for 6 years. I have always wanted to become a nurse and dream to reenlist as a Navy nurse to save lives. I received financial scholarship that supports my nursing academic journey, and it has truly made a huge difference for me. I am thankful for the benevolent hearts who help students like me become the best nurses we can be." - John Cary Nuez, Undergraduate Nursing Student Veteran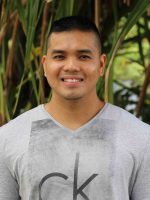 Benefits for Veterans
A dedicated academic advisor, who is a veteran.
A curriculum that is tailored to veteran student needs and gives credit for military experience and education.
Learning resources and nursing exam preparatory courses.
Social activities with student veterans.
Nursing faculty who are familiar with the military and needs of student veterans.
Eligibility
Active duty service members and veterans are eligible for the Veterans to Nurses Program. Active duty service members from the Air Force, Army, Coast Guard, Marine Corps, and Navy are eligible. Student veterans must have been honorably or generally discharged from the military to participate.
Accepted military status includes:
Active Duty
National Guard
Reserve
Retiree
Veteran
Credit by Examination
Credit by exam is offered for student veterans who have documented military medical experience. Courses available for credit by examination in the School of Nursing and Dental Hygiene are Nurs 210, Nurs 210/L, Nurs 212, Nurs 220 and Nurs 220/L. In order to obtain credit for these courses, Students are required to who pass a comprehensive exam, skills testing, written care plan, and a standardized specialty exam may obtain credit for these courses. For more details, please contact the Student Veteran Advisor.
How to Apply
Contact for UH Manoa Nursing
Ryan Yamada, BA
Veteran Student Advisor
---
Contact for pre-nursing and nursing veteran students and students using VA education benefits.
School of Nursing and Dental Hygiene
University of Hawaii at Manoa
2528 McCarthy Mall, Webster Hall 201
Honolulu, HI 96822
Phone: (808) 956-3793
Fax: (808) 956-5977
Email: ryamada4@hawaii.edu
Contact for Questions about VA Education Benefits or Veteran Benefits
Kenith H. Scott, MPA
Director, Office of Veteran Student Services
Student Equity, Excellence & Diversity (SEED)
University of Hawaii at Manoa
Phone: (808) 956-2192
Email: kenith@hawaii.edu
OVSS Email: ovss@hawaii.edu
Website: http://www.manoa.hawaii.edu/veterans
This project is/was supported by the Health Resources and Services Administration (HRSA) of the U.S. Department of Health and Human Services (HHS) under UF1HP26981 Nurse Education, Practice, Quality and Retention Veterans' Bachelor of Science in Nursing Program for $1,397,888. This information or content and conclusions are those of the author and should not be construed as the official position or policy of, nor should any endorsements be inferred by HRSA, HHS or the U.S. Government.