For Nurses who have a BS in Nursing Degree
The Advanced Population Health Nursing (APHN) Program is a distance-based master's degree for registered nurses who wish to practice in Hawaii, the US mainland or in an international setting.  The program focuses on population-level health, wellness, and health promotion and disease prevention.  The student learns critical population health skills such as community and population assessment; complex project/program management; disaster nursing, health services research; and health policy analysis.
Fast Facts
The program educates future leaders for community and public health nursing with a focus on Hawaii and the Pacific Region.
Advanced Population Health Nursing practice roles include education, case management, clinical practice, consultation, community outreach, research and management/administration.
Coursework is completed via online learning and fieldwork is conducted in the student's own local community.
An end of program capstone project can be completed in the student's local community or in an international setting.
The 30-39 credit program is designed to be completed in one year as a full time student or in two years as a part time student.
Outcomes
At the conclusion of the program, the graduate is awarded a master's degree in nursing with a specialty in advanced population health. The graduate is competent in the Essentials of Master's Education in Nursing (2011) that reflect current and future nursing practice at the master's level, which demands expert application of evidence-based practices, quality improvement methods, outcomes measurement, systems knowledge, and leadership skills. Nurses who obtain the competencies outlined in these Master's Essentials will possess the advanced knowledge in the discipline and leadership skills needed to improve health outcomes in a number of current and emerging roles.
Master's Degree Entry Pathways
Students can enter the master's degree program through one of these pathways.
RN with a bachelor's degree in nursing
Graduate Entry Program in Nursing – Non-nurses with a non-nursing bachelor's degree
RN to MS – RNs with an associate degree in nursing and a non-nursing bachelor's degree
As a Native Hawaiian nurse, I look forward to helping Hawaiian people with health issues that are common to our population. The IKE AO PONO Program has supported my academic journey as a graduate student, and I intend to repay this support by helping to improve the health of future generations. - Kanoe Tani, Master's Degree in Advance Population Health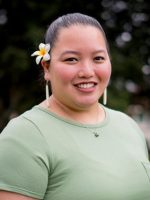 RN to MS Entry Pathway Program Description
Applicants with a non-nursing baccalaureate should have evidence of baccalaureate level knowledge in research (NUR 363); community, public, and global health (NUR 450); and an integrative clinical practicum and leadership development (NUR 460). Competency in each of the three areas may have been obtained through course work, professional programs, and/or professional or life experience.
The admitted student can petition to waive the coursework by submitting an experiential portfolio to demonstrate either coursework or experience in the required areas. Samples of evidence include: resume, transcripts for previous college coursework; course syllabi which outline course descriptions and learning objectives; professional training programs coursework that includes learning objectives. Guidelines for the experiential portfolio are available from the Nursing Office of Student Services.
Resource for Prospective Graduate Students
Contact
Raymond Jarman, PhD
Associate Specialist, Master's and PhD Program Advisor
---
Contact for the Masterʻs and PhD program applicants and enrolled students.
School of Nursing and Dental Hygiene
University of Hawaii at Manoa
2528 McCarthy Mall, Webster Hall 201
Honolulu, HI 96822
Phone: (808) 956-3519
Fax: (808) 956-5977
Email: gradnurs@hawaii.edu (For master's program)
phdnurs@hawaii.edu (For PhD program)