Castle Medical Center's Open Heart Team ICU Simulation Training
Earlier this year, Castle Medical Center started it's open-heart surgery program to service the needs of Windward Oahu and the larger Hawaii community. As part of their annual open heart simulation review, Director of Cardiovascular Services and Intensive Care Unit, Mike Barber, RN and Cardiovascular Educator ICU/CCU Mary Lawson RN, BSN, CCRN-CS rounded up their team of nine open heart ICU nurses and traveled to UH Manoa for customized simulation training. Additionally, Castle's new ICU Manager Nancy Day, RN, CCRN joined Lawson and Barber for the 2014 annual open heart review.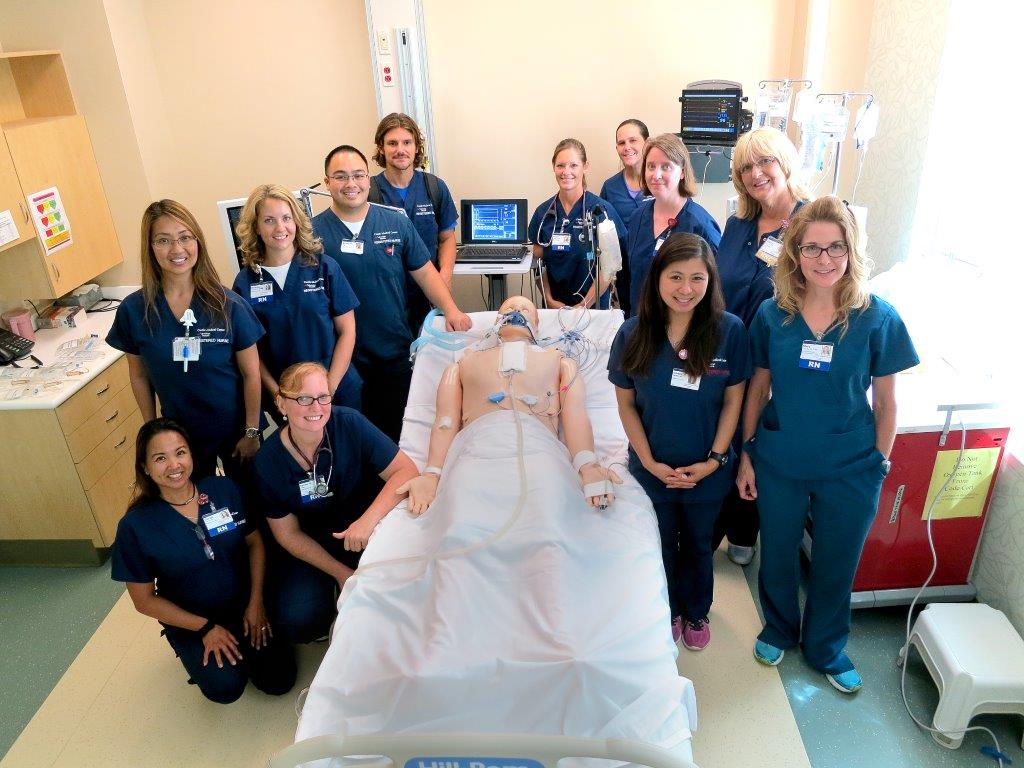 Together, the three leaders from Castle Medical Center worked closely with the UH Translational Health Science Simulation Center Director Dr. Lorrie Wong to provide additional updates to the original 2013 curriculum. Barber, Lawson, Day, and Wong developed a two-day simulation exercise to meet Castle's open heart center needs. The goal of the simulation training was to standardize open heart care and to provide new staff with previous open heart experience the opportunity to learn Castle's procedures in a safe, controlled environment. In addition to standardization of care practice, Day and Barber conducted a competency review to ensure that the Castle open heart team provides the highest standard of patient care.
Castle now contributes to the growing number of Hawaii RNs who are highly-skilled open heart ICU nurses. Simulated training helps to ensure that Castle ICU nurses have the best assessment and treatment skills. Castle's training focused on 12 different clinical scenarios specific to the open heart patient.
Several RN's mentioned in post-training debrief that the simulated exercises provided them with real world scenarios where they could practice making clinical judgment in a clinically safe environment. Participants were humbled by both the process and the growth during the two-day training. The greatest lesson for Barber and his team was the reminder that even experienced open heart RNs may not have had the full experience of certain clinical emergencies such as pericardial tamponade or atrial fibrillation crisis. This structured, customized simulation training at UH Manoa Nursing provided Castle with the education opportunity to allow the RNs to see and observe themselves and to learn from each other in simulated emergencies that they may not experience at the bedside for months or even years.
For more information about the Castle Medical Center's Open Heart Center visit https://www.adventisthealth.org/castle/news/complete-cardiac-care. To request a proposal for simulation training or to schedule a tour of the UH Translational Health Science Simulation Center, contact Dr. Lorrie Wong at (808) 956-7466 or email thssc@hawaii.edu. If you'd like to make a contribution to further the advancement of the UH THSSC, you can make a secure, online gift at www.uhfoundation.org/GiveToNursingSim.