Event Details
Event Date:
Start Time:
End Time:
Location:
The Pacific Club, 1451 Queen Emma Street, Honolulu, 96813
Important Notice
The UH Manoa Nursing Dean's Lecture by Dr. Sue Hassmiller for tomorrow, Tuesday, March 10, 2020, 4:30 p.m. at the Pacific Club has been canceled. This decision was made as a precautionary health measure to prevent the spread of the coronavirus.
Thank you for your understanding. Information about a rescheduled lecture date/time will be posted in the future.
Posted: 3/9/2020
---
UH Manoa Nursing invites all members of the healthcare community to this free event. The lecture will be followed by discussion and reception.
Tuesday, March 10, 2020
4:30 – 6:30 p.m.
The Pacific Club
1451 Queen Emma Street, Honolulu, HI 96813
Business casual or aloha attire.
Space is limited; RSVPs required.
RSVP by Friday, February 28, 2020.
Lecture Information
Dr. Susan B. Hassmiller, the senior adviser for nursing at the Robert Wood Johnson Foundation, will share her story of her husband's final days in the intensive care unit and the importance of enabling clinicians to prioritize the patient and family experience. She will discuss the need both for health systems and individual clinicians to deliver compassionate, high-quality care, as well as to articulate why compassionate care has been shown to improve health outcomes and clinician satisfaction. Dr. Hassmiller will make the case that quality and safety will improve when the medical establishment truly prioritizes compassionate care.
Dean's lecture attendees will receive a complimentary copy of Dr. Hassmiller's book, Resetting: An Unplanned Journey of Love, Loss, and Living Again. Following the presentation, Dr. Hassmiller will be available for book signing.
Distinguished Speaker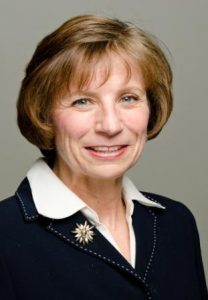 In Dr. Hassmiller's role as Senior Adviser to President on Nursing at the National Academy of Medicine, she is a key member of the leadership team for the Future of Nursing 2030 report. She is also the Robert Wood Johnson Foundation Senior Adviser for Nursing, and in partnership with AARP, also directs the Foundation's Future of Nursing: Campaign for Action. This effort strives to implement the recommendations of the Institute of Medicine's report on the Future of Nursing: Leading Change, Advancing Health and will additionally seek to build a Culture of Health. Hassmiller served as the report's study director. Hassmiller's work has included service in public health settings at the local, state and national levels, including HRSA. Hassmiller is an elected member of the National Institute of Medicine, now the National Academy of Medicine, and a fellow in the American Academy of Nursing.
The Dean's Lecture Series
The Dean's Lecture Series is supported by the Starlit Walk Present: Endowment for the Advancement of Nursing established for UH Mānoa Nursing. The purpose is to bring nationally renowned speakers to educate students, alumni, nursing and other healthcare professionals.
Contact
Persons with disability-related access needs are invited to contact Carlyn Minster, at (808) 956-0896 or carlynli@hawaii.edu by Friday, Feb. 28, 2020.
A special mahalo to The Robert Wood Johnson Foundation for supporting Dr. Hassmiller's visit to Hawai'i.
For more than 40 years the Robert Wood Johnson Foundation has worked to improve health and health care. We are striving to build a national Culture of Health that will enable all to live longer, healthier lives now and for generations to come. For more information, visit www.rwjf.org.