Event Details
Event Date:
Start Time:
Location:
UH Manoa Campus, Hemenway Hall 200-D
Registration:
Register Here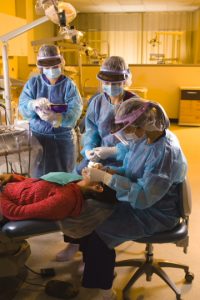 Saturday parking at UH Manoa is a flat fee of $6.
Visit UH Manoa Dental Hygiene to learn about dental hygiene education and tour the dental hygiene clinic. Learn about the High School Direct Entry into Dental Hygiene program designed specifically for high school graduates. The program prepares students to get a Bachelor of Science degree in four years. Students start prerequisites as freshmen and begin the dental hygiene curriculum in year two. Students graduate with a BS degree and are prepared to provide high quality care as a Registered Dental Hygienist.
Registration begins at 1:30 p.m. Event starts at 2 p.m.
Agenda:
Dental Hygiene Program Overview
Direct Entry Program Presentation
Student Panel Discussion
Tour of Dental Hygiene Clinic
No cost. Parents / guardians welcomed.
For students in grades 11 and 12.
Attire: Covered shoes.
RSVP: Register online below by October 2, 2017 or at capacity
Contact: Kristine Osada, Dental Hygiene Department Chair, (808) 956-8821, kmsato@hawaii.edu
Disability Access: Persons with disability-related access needs are invited to contact Kristine Osada, Dental Hygiene Department Chair, at (808) 956-8821 or kmsato@hawaii.edu by October 2, 2017.
Registration for this event is now closed.