Event Details
Event Date:
Start Time:
End Time:
Location:
Online via Zoom Meeting
Registration:
Register Here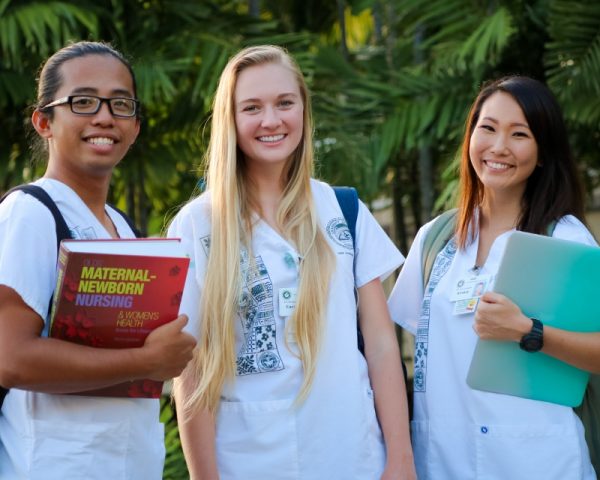 Visit UH Manoa Nursing virtually and experience nursing education using the state-of-the-art UH Translational Health Science Simulation Center.
Learn about the High School Direct Entry into Nursing Program (HS DEN) designed specifically for high school graduates. The program prepares students to get a Bachelor of Science degree in four years. Students start prerequisites as freshmen and begin the nursing curriculum in year two. Students graduate with a BS degree and are prepared to provide high quality care as a Registered Nurse. The event will also feature current HS DEN students who will share about their experiences in the program.
Saturday, November 21, 2020
9:00 – 11:00 a.m.
Online via Zoom Meeting
No cost.
For students in grades 10, 11 and 12.
Parents and families are welcome to view the event with their student.
Agenda
Nursing Program Overview
Simulation Learning Overview & Activity
Student Panel Discussion
Direct Entry Program Presentation
RSVP
Space is limited. Registration will be open through November 18 or until capacity is reached.
Disability Access & Event Information
Persons with disability-related access needs or event-specific questions are invited to contact Carlyn Minster at (808) 956-0896 or carlynli@hawaii.edu by November 6, 2020.
Contact
For more information about the High School Direct Entry in Nursing program, contact Brian Akiyama.
Brian Akiyama, BA
Pre-Nursing and Pre-Dental Hygiene Advisor & Admissions Specialist
---
Contact for applicants & prospective students to High School Direct Entry in Nursing (HS-DEN), High School Direct Entry in Dental Hygiene (HS-DEDH), and Bachelor of Science in nursing programs.
School of Nursing and Dental Hygiene
University of Hawaii at Manoa
2528 McCarthy Mall, Webster Hall 201
Honolulu, HI 96822
Ph: 808-956-3794
Fax: 808-956-5977
Email for applicants and prospective students:
Schedule an Advising Appointment
via Star Balance