Life on Board the USNS Mercy, Pacific Partnership 2012
By Gary Glauberman, RN, MS
glauberm@hawaii.edu
Community, Public and Global Health Nursing Instructor, UHM Nursing
Pacific Partnership
Pacific Partnership is a humanitarian mission that is sponsored by the US Navy. Each year, Pacific Partnership visits four countries (known as "host nations") in the Asia-Pacific region, with a multinational team (including the US, Canada, Japan, New Zealand, Australia) that includes military and civilian participants. The motto of the mission is to "prepare in calm to respond in crisis".  There are two key aims of the mission, namely:  provide clinical services to citizens of the host nation, and engage in subject matter expert exchange (SMEE) activities. It is recognized that the visitor nations and the host nations each have something to offer and each can learn from one another.
This year Pacific Partnership visited four host nations:  Indonesia, Philippines, Vietnam, and Cambodia. Faculty and graduate students from UH Manoa Nursing participated in the Pacific Partnership 2012 mission.  Below is a summary of key activities and events during the mission.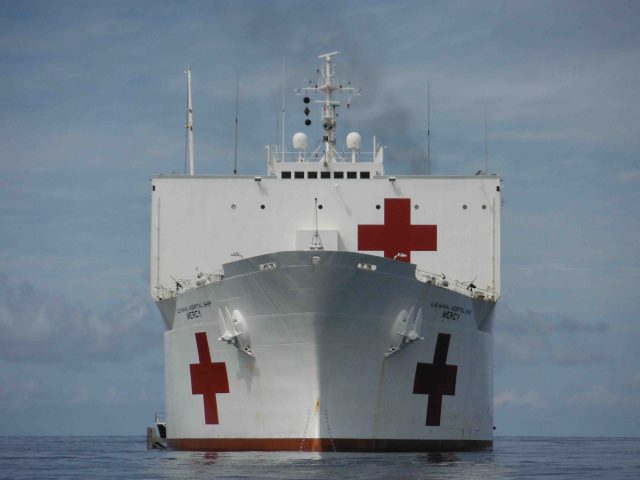 May 25, 2012: Welcome Aboard the USNS Mercy
I finally arrived to the USNS Mercy! Months of anticipation and days of packing and preparation have led to today. And now here I am, joining the Pacific Partnership 2012 mission on the Navy hospital ship!
It has been a whirlwind two days of travel to get here. We were traveling from Honolulu to Guam to meet the ship. I found some of my other UH Manoa colleagues (Monique Wheeler and Gabriel El Swaify) at the Honolulu airport. We were all nervous and excited for this adventure. We landed in Guam at sunset, and it was dark by the time we reached the ship.
Sunset in Guam: Myself (Gary Glauberman), Gabriel El Swaify and Monique Wheeler arrive in Guam
When I first saw the ship, I was speechless. It was huge, white, and glowing with many lights from the deck. I couldn't believe it was there right in front of my eyes.
The first time I had read about the USNS Mercy ship was during the Indonesian earthquake in 2004. I remember thinking that one day, I'd like to join the USNS Mercy on a humanitarian mission. Now that I was staring right at it, it really felt like a dream of mine was coming true.
First glimpse of the USNS Mercy: Docked in Guam
Once on board, we promptly entered the check in line, where we were assigned our sleeping area (called a berthing), issued linens, workplace assignments, and provided information about the ship. UH Manoa Nursing faculty members  (Professors Carrie Davis and Kristine Qureshi), and graduate student (Sarah Sanderlin) met us at the entrance hall, and welcomed us warmly to the ship; it was nice to find familiar faces among the whirlwind crowd of people. Before the ship departed for Indonesia, I able to go ashore in Guam to gather last minute supplies and snacks.  Then, on May 25th we departed Guam, and were on our way to Indonesia. Monique and I watched from the deck as the tug boats pulled us from our mooring. We stayed on deck chatting until the southernmost part of Guam was barely visible. Open ocean for the next six days! Below is a map of our transit from port to port for the mission.
The Ports of call and transit time for Pacific Partnership 2012
May 26 – 31, 2012: UH Manoa Nursing & the Subject Matter Expert Exchange (SMEE) Team
This week, we learned about the role that UH Manoa Nursing will play on the Pacific Partnership 2012 SMEE team. Our team was composed of four faculty members (Carrie Davis, DNP; Kristine Qureshi, DNSc; Gary Glauberman, MSN; Teresa Parsons, MSN) and three graduate students (Sarah Sanderlin, RN; Heather Porter, RN; Amanda Treinen-Aea, RN).
We were all assigned to the Subject Matter Expert Exchange (SMEE) department, where our main function was to assist in coordinating Subject Matter Expert Exchanges (SMEEs) at each host country that we visited. We worked side by side with the other SMEE team members, including: US Navy and Air Force nurses, corpsmen, and EMTs, as well as two faculty members from John Hopkins University, who are experts in disaster preparedness and response.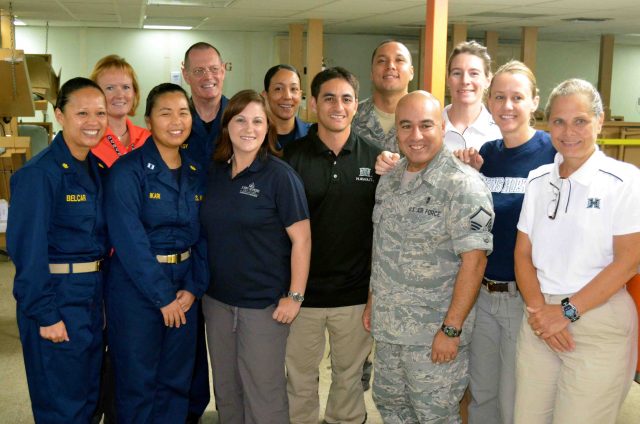 Indonesia Mission SMEE Team: From Left: LCDR Karen Belcar (US Navy), Sarah Sanderlin (UHM), LT Sachiko Ikari (US Navy), LCDR John Huessy (US Navy), Lauren Sauer (John Hopkins University), HM2 Amirah Roman (US Navy), Gary Glauberman (UHM), TSgt Alfonso Gaitan (USAF), MSgt Apolinar Navarro (USAF), Carrie Davis (UHM), Christina Catlett (John Hopkins University), Kristine Qureshi (UHM).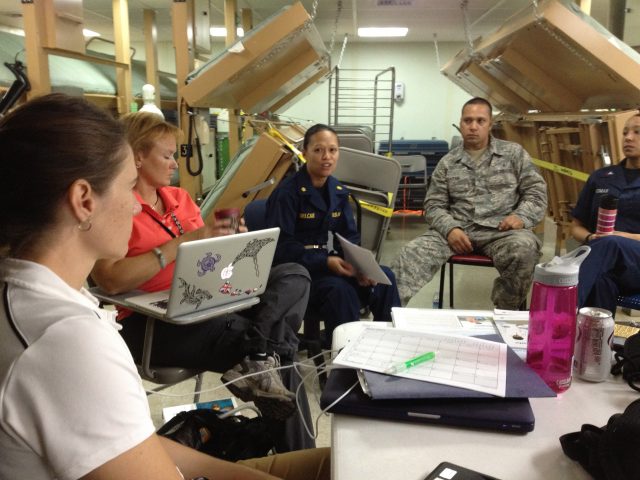 Monday Morning Roundtable: LCDR Belcar leading the SMEE team's weekly group meeting
I worked closely with Dr. Qureshi to plan the upcoming Nursing Symposium at Klabat University in Manado, Indonesia. We were informed that the school is interested in learning about infectious disease prevention, trauma management, and nursing skills practice. Dr. Qureshi and I found many experts in these topics on the ship, and asked them to participate in the SMEE.   It was really intimidating at first to approach these uniformed professionals and ask them to do something for us. But I was encouraged after seeing how most on board people are generally very eager to join the SMEEs and teach their expertise.
Though we had just arrived, there were only five days left before arriving in Indonesia and still very much to do!
Briefing the SMEE participants: Kristine Qureshi and Sarah Sanderlin go over the plan for the Klabat Nursing Symposium with US Navy doctors and nurses
Creating splints: Dr. Qureshi and I show off our newly created splints, which we will use to teach nursing students proper splinting technique.
May 27, 2012: Daily Life Aboard the Ship
Despite its big, white exterior, life aboard the USNS Mercy is nothing like being on a cruise ship! I feel like I have joined the Navy. Beds on the ship are called "berths," and are located in large berthing areas segregated by gender. My berthing area has about 60 beds, with a mix of US military, foreign military and non-governmental organization (NGO) personnel. It is interesting to get to work and live with so many people from different parts of the world!
In the berthing area, the beds are stacked 3 beds high.  There is a curtain hung at the side of each berth for privacy, and a reading light at the head of the bed. We each have two lockers to store our bags and clothes and laundry. All in all,  the berthing area is pretty comfortable! Usually, by the time I get to bed, I am so tired from walking up and down the stairs, I really could sleep anywhere.
"Relaxing" in my rack.
Berthing area
Berthing is single gender.
We conducted a few emergency drills today as well. Two important ones were the man-overboard drill and abandon ship drill, where everyone puts on life jackets and practices getting to our assigned life raft stations.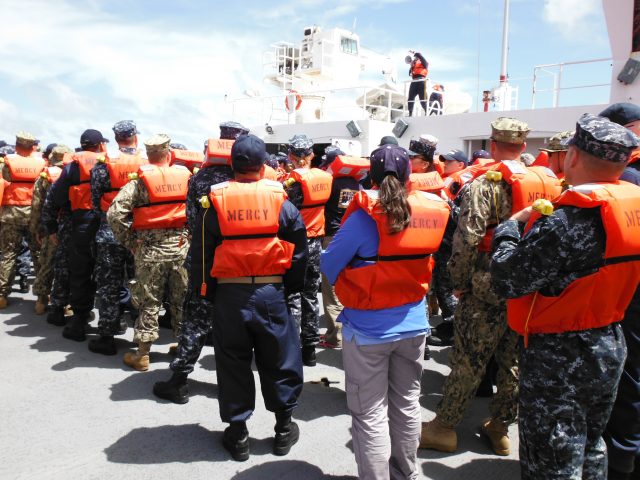 Emergency/ Safety  Drill: All USNS Mercy personnel line up at their life-raft stations to be counted during the ship drills
My SMEE colleague – Lauren and I wait for the all-clear signal during the man-overboard drill.
May 28, 2012: Military Culture from the Confused Eyes of a Civilian
I am totally new to the military way of life, and understanding what is happening around me is often a challenge on the ship. On board, there are military personnel from every branch, with different colored uniforms and ranking symbols tagged to their chests and collars.
The Navy uniforms are particularly interesting. They wear their attractive blue camouflage, what they call their Navy Work Uniforms (NWUs), while docked in port. But as soon as we were  "underway" (out of the harbor), naval personnel donned new uniforms, which are blue coveralls.
Not knowing how to address the military personnel you encounter occasionally lead to awkward moments as well. When naval personnel introduce themselves, they often use their first name, rather than their rank. But everyone in the military addresses each other by rank, so I've tried to do the same. We address our department head as "Commander," and "Lieutenant," instead of their names, which sometimes sounds really cool. But some others have more obscure ranks and titles. One person who works in our office asked me to call her "HM2" for short. I thought it felt weird to call someone by letters and numbers, it sounds like I am addressing a robot.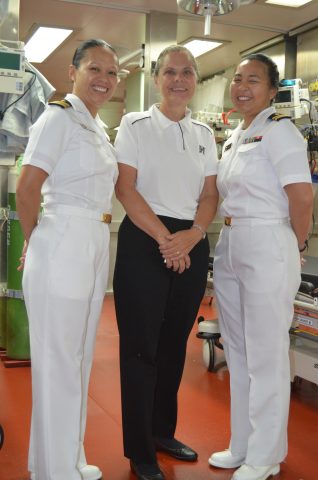 Professor Kristine Qureshi (center), LCDR Karen Belcar (left) & LT Sachiko Ikari (right) on their way to shore for an opening ceremony
Besides their appearance, it is also very difficult to understand what many military personnel are talking about at any given time. They shorten names and roles into cryptic acronyms, and have a habit of making acronyms into words, forming a strange sounding language. For example, I work in the Department of Medical Operations, or the "DMOP," in the Subject Matter Expert Exchange 'SMEE' division. We are stationed next to the CB engineer corps, or "Sea-Bee's", and above the CMCC (Sim-See) department, which I later learned is the Civilian-Military Coordinating Center.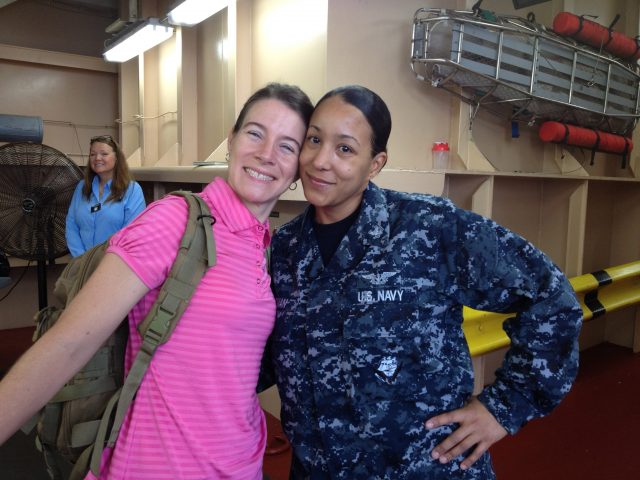 Professor Carrie Davis (left) with teammate HM2 Amirah Roman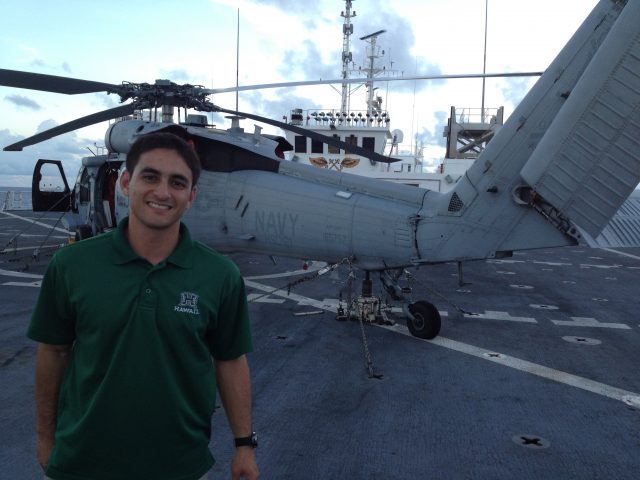 Navy Helicopter: One of the two "helo's" on board the USNS Mercy
On Deck Basketball: Pick-up game between Navy and NGO volunteers.
May 30, 2012: Somewhere in the Pacific
We are far out at sea, somewhere between Guam and Indonesia. I think we've been out at sea, "underway," for five days now. If I look out on the deck towards the horizon, there is only ocean all the way around. It is a little eerie to think how far away we might be to the closest piece of land.
My daily routine on the USNS Mercy is starting to take shape: Wake up at 5:40 a.m., scramble in the dark to get dressed, climb up four stories of the red stairwell to get to the mess hall for breakfast before 7 a.m. Back down the purple stairwell to the berthing area to gather work supplies, then up and down the orange stairwell to the office. We work until lunch, eat lunch, go back to work, until dinner, which is between 5-6PM. We are all able to work out at the gym in the blue stairwell, shower, and then off to bed at around 10:30p.m. Tomorrow, we do it all again!
This week, I met two people with ties to Hawaii. One, a navy reservist from Pearl City, works as a physical therapist in Honolulu, and though he has been the Navy Reserve for quite awhile, it is his first time on a ship. I also met a UH nursing school graduate, who is working as a Nurse Practitioner for the US Navy in Japan, and speaks fluent Japanese.
UHM Nurses: Professor Kris Qureshi posing with UHM Nursing graduate, LT Brittany Saito.
To liven things up on the ship, there are many classes or activities planned throughout the week. I tried out yoga, salsa and Zumba classes this week, and am considering joining a Spin class at the gym.
Zumba class: One of the most popular activities aboard
Evening in the gym: Spin class in full spin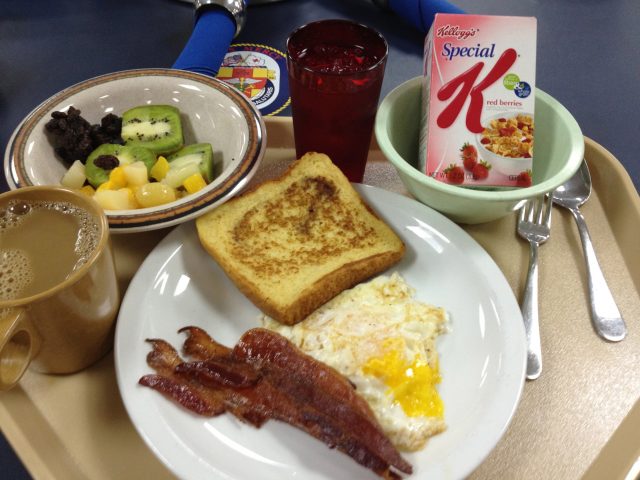 My typical hearty breakfast: eggs made to order, French toast and side of bacon, cereal and fruits!
Tonight's Dinner: Chicken patty, soup and salad. Don't spare the gravy!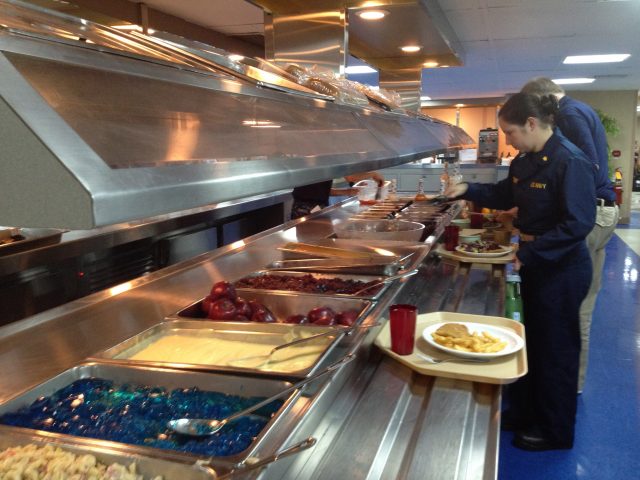 USNS Mercy Salad & Dessert bar: Blue jello, banana pudding and all the ice cream you can eat!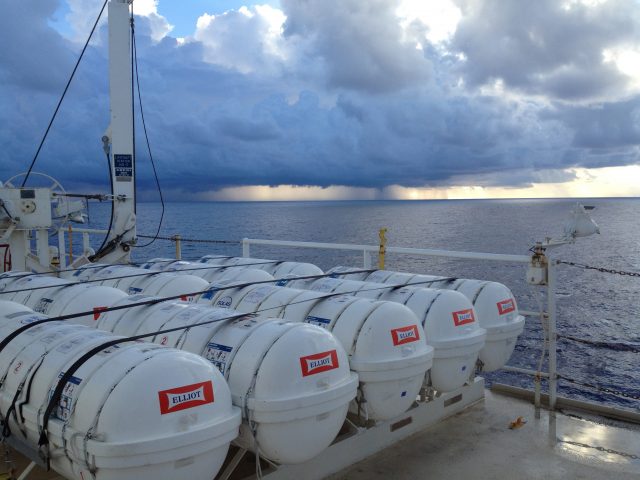 Life raft Pods: Lined up along the deck, with an endless Pacific Ocean as a backdrop.
May 31: Non-Governmental Organizations (NGO) Volunteers on Board
There are a many different civilian volunteer groups on board, which constitute the hundreds of volunteers to the USNS Mercy workforce. These groups include: the Latter Day Saints (LDS) Charities group, the University of California San Diego Pre-Dental program, and Project HOPE volunteers. Most of these volunteers are nurses and doctors, many who have taken vacation time, or even unpaid leave to join the Pacific Partnership mission. We, the UHM Nursing group (and our two UHM engineering grad students), are one of the smallest groups aboard.
UH Manoa Group on deck: From left: Gabriel El Swaify, Monique Wheeler, Kristine Qureshi, Gary Glauberman
It has been fascinating meeting people from all around the country and learning what has brought them to the Pacific Partnership 2012 mission. I have spoken to a few people that have either been on the Mercy or her sister ship, the USNS Comfort, which conducts similar humanitarian missions in Central and South America.
Disaster Preparedness Team: From left: UHM Sarah Sanderlin, Lauren Sauer of John Hopkins, UHM Gary Glauberman, UHM Kristine Qureshi
USNS Mercy Mess Hall: Monique sharing dinner and laughs with a duo from the "World Vets" NGO group
May 31, 2012: Arrival in Indonesia
After six days of sailing, just as I was getting used to the rocking of the ship at out at sea, I walked on deck before breakfast and was happy to see land again! We were passing through an area dotted with small green islands; some seemed uninhabited, while some had tiny villages along their shores.
I learned that the Indonesia portion of the Pacific Partnership 2012 is very unique this year because it is occurring on four separate islands in Indonesia: Sulawesi Island, where Manado City is located, Sangihe (Sangir) Island, Siau Island and Talaud Island. The ship will circle these four islands twice, each time staying only long enough to drop workers off and pick patients up.
So today, we "arrived" in Manado, Indonesia. I put arrived in quotes because we are anchored about half-a-mile away from shore, since the ship is too large for any harbor in this area. Really, it still felt like we were at sea. The ship is buzzing with activity, though, as we started to take on patients onto the ship for medical treatment. A group of Indonesian nursing and medical students were assigned to our office as well, to translate our PowerPoint files into Bahasa, the Indonesian language. Their English skills are amazing, and they are very excited to help us with our work.
I have been re-assigned to work with Professor Carrie Davis on the education event she is planning in Sangihe, Indonesia. We are planning four consecutive days of public health and nursing education, focusing on maternal and child health; and malaria and infectious disease prevention. These are health issues that the local Sangihe public health department have identified as big problems for their community. Carrie and I have been meeting with our team to discuss scheduling and logistics for the event.
Dr. Qureshi and Sarah Sanderlin continue planning for the Nursing Symposium in Manado, which is the first SMEE event scheduled. There are two other major education events occurring in Indonesia that our office is planning: a Humanitarian Assistance and Disaster Response (HADR) event in Manado, and another public health/nursing conference in Siau Island.
I'm really excited to get on land again, and very much looking forward to eating some Indoensian food!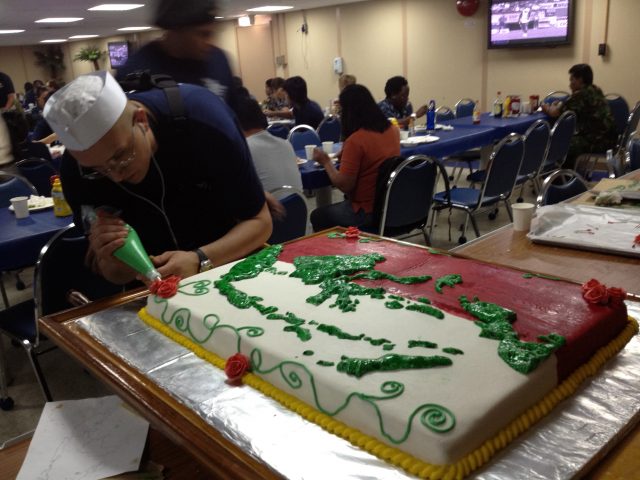 Cake of Indonesia: The culinary staff prepares for PP12 Indonesia opening day festivities with an incredible cake.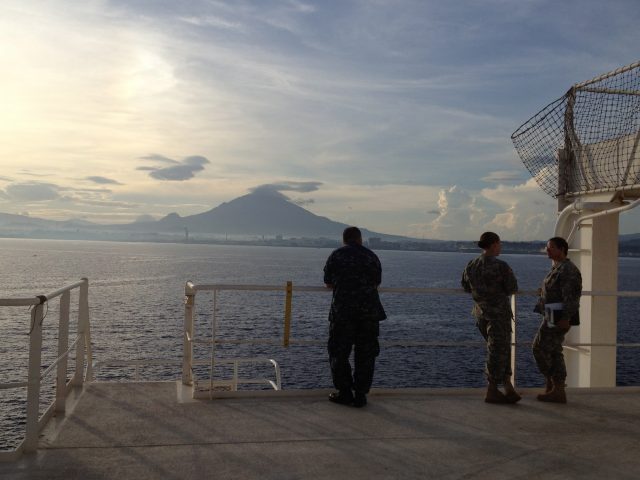 Islands off the portside deck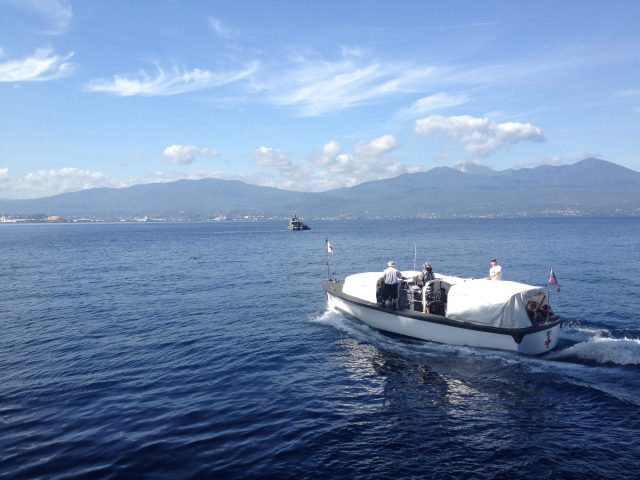 Off to shore: The tiny "Band-Aid" boat is how people get back and forth to shore from the USNS Mercy.