President of AANP Visits Hawaii Keiki School-Based Health Center
Hawaii Keiki: Healthy and Ready to Learn welcomed Dr. April Kapu, president of the American Association of Nurse Practitioners (AANP), to the Hawaii Keiki school-based health center at Dole Middle School. Kapu met with the Hawaii Keiki leadership team and nursing staff to learn about the benefits of school-based health services. During her visit, Kapu toured the Dole Middle School clinic and was introduced to the many ways having a school nurse in public schools can provide better health outcomes and school performance for keiki.
Kapu is the current president of the AANP with more than 30 years of experience in health care and 18 years as an acute care nurse practitioner. Currently, she is an associate dean for clinical and community partnerships at Vanderbilt University School of Nursing, a professor of nursing, and teaches in Vanderbilt's Doctor of Nursing Practice (DNP) program. As a nursing leader and advocate, Kapu's visit was a wonderful opportunity for Hawaii Keiki staff to learn from her wealth of experience and share the valuable work Hawaii Keiki does to continue and further school nursing in the state of Hawaii.
During her visit, Kapu toured the school-based health center and received an overview of Hawaii Keiki's mission, program model, and services. Deborah Mattheus, Hawaii Keiki senior practice director and UH Manoa Nancy Atmospera-Walch professor in school health and associate professor shared the positive impact the program has made. Since its inception, Hawaii Keiki has increasing healthcare access to public school students and has rapidly growth from 4 nurses to more than 50 APRNs and RNs placed in Hawaii Department of Education schools across the state.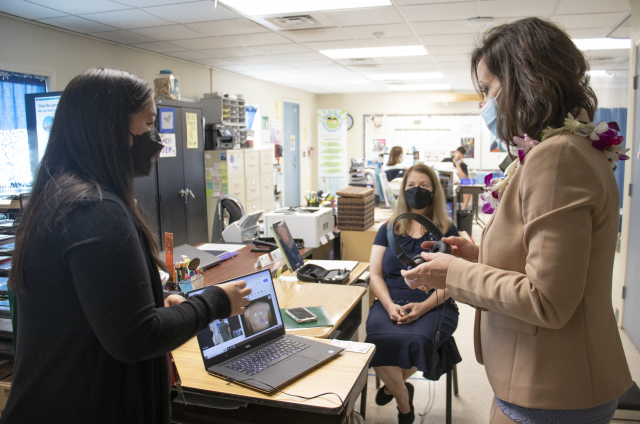 Kapu participated in a telehealth demonstration and saw how Hawaii Keiki's Virtual Keiki Care Program is utilizing the latest technology to connect students with a Hawaii Keiki APRN through a virtual visit. The use of telehealth has increased healthcare access and equity for students. Kapu also spoke with three DNP students from the Nancy Atmospera-Walch School of Nursing (NAWSON). All three students had precepted with a Hawaii Keiki school nurse and they shared their unique experiences in the school-based health centers.
Lastly, Beatriz (Bumanglag) Darby, complex area APRN at Dole Middle School and graduate from the NAWSON DNP program, shared her experiences as a school nurse and how she sees school nursing helping to increase access to healthcare and create solutions for students by eliminating transportation issues, decreasing expenses, and addressing language barriers for students and families. Hawaii Keiki also offers much needed mental health services to students, many of whom live in low-income communities and face unique challenges.
For more information about the Hawaii Keiki program, contact hikeiki@hawaii.edu.