UH Manoa Nursing alumna Nancy Atmospera-Walch makes lasting impact on Hawaii
The University of Hawaii at Manoa is renaming the Nancy Atmospera-Walch School of Nursing to the Nancy Atmospera-Walch School of Nursing. Nancy Atmospera-Walch is a UH Manoa Nursing alumna who has made a transformative gift to the school that will have an enduring impact on the quality of nursing education, student success, community service and the nursing profession. The department of nursing and the department of dental hygiene will remain within the school with no changes in their respective degree programs.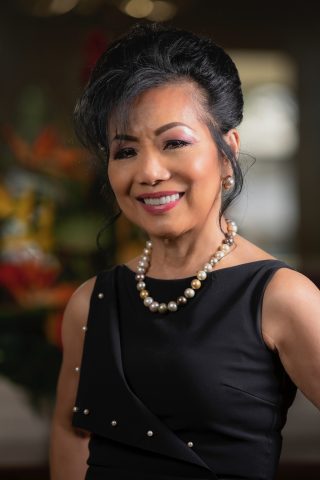 "Everything I am, everything I have been blessed to achieve in my career, I owe it to being a nurse. And being a nurse––I owe that to the University of Hawaii," said Atmospera-Walch. "I am so honored to be able to give back to the university. And this support will pay forward in perpetuity with each nurse that UH educates and the lives of each patient and their families that our nurses touch."
Born and raised in Vigan, Ilocos Sur, Philippines, Atmospera-Walch and her family moved to Hawaii after she graduated from high school. Despite being initially discouraged from attending college, she went on to earn her AS '71 and BS '77 in nursing, MPH '88 in health education and Doctor of Nursing Practice degree in Organizational Leadership in 2017 at UH Manoa.
After 29 years of service at The Queenʻs Medical Center in clinical, management and administrative areas, Atmospera-Walch founded ADVANTAGE Health Care Provider, Inc. in 2009, a local company that provides health care services and support to intellectually and developmentally disabled clients. She is also the founder and CEO of AIM Healthcare Institute, a healthcare education and consulting company.
She received the 2017 Dean's Scholarly Project Award in recognition of her DNP project "Improving Patient Safety Through Structural Empowerment." The program has since been implemented nationwide.
"Dr. Nancy Atmospera-Walch is a powerful role model for our students and her remarkable generosity sets an example for all," said UH President David Lassner. "This amazing gift from a grateful alumna will enable us to do so much more to advance the nursing profession in Hawaii and create healthier communities across our islands. We are immensely proud that our UH Manoa Nursing School will bear her name."
School of Nursing Dean Mary Boland also commended Atmospera-Walch's generosity, adding that her donation was very strategic.
"Nancy's targeted support effectively leverages the expertise and programming at UH Manoa Nursing to improve school health for Hawaii's keiki; address our state's needs in our nursing workforce; and support future nurses and emerging faculty leaders," said Boland. "On behalf of our future nurses and the many communities our students and alumni serve, thank you Nancy!"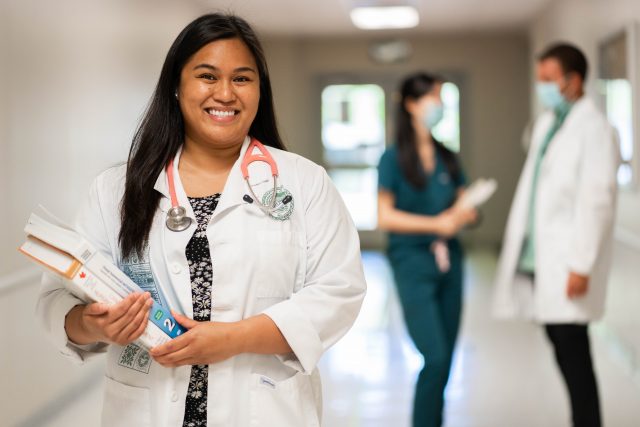 Impact:
●      Improving school health for Hawaii's Keiki:
This gift will support an endowed professorship in school health to enable the nursing school to retain a dedicated faculty member committed to improving the health of Hawai'i youth by providing access to school-based health services via the Hawaii Keiki: Healthy & Ready to Learn Program.
●      Addressing the state's nursing workforce shortage:
The gift will provide operating funds for the Hawaii State Center for Nursing (HSCN), a center dedicated to addressing the state's current and future nursing workforce needs. The endowment will provide funding to expand the HSCN. The HSCN's priorities include advocating for student clinical placements, faculty recruitment and retention, professional development, and education support related to nursing in community based settings.
●      Supporting future nurses:
Recognizing the need to directly invest in our future nurses, Dr. Atmospera-Walch's gift funds endowed scholarships for undergraduate and graduate students, with preference given to nursing students from under-represented populations. To complement this, she is also supporting the advancement fund to help the Dean stay ahead of evolving needs and excellence in nursing education.
●      Developing early career nursing faculty:
This gift will support two early career endowed professorships and will help the school recruit and retain the most promising young faculty and jumpstart their professional achievements.
UH Foundation CEO and UH VP of Advancement Tim Dolan said, "Ambitious philanthropists like Dr. Atmospera-Walch have an incredible ability to radically change our world. Nancy Atmospera-Walch has been a trailblazer all her life. With her gift, she is creating opportunities for future nurses to perpetuate her legacy of breaking down barriers and serving the community and most needy amongst us."
More about the donor
Atmospera-Walch's company, ADVANTAGE Health Care Provider, Inc. assists those in need of Home & Community Based Health Care Services (HCBS) on the Islands of Oahu, Maui and Kauai. In the Community Based Residential Care Home Industry, Atmospera-Walch has been a passionate advocate for the most vulnerable to receive accessible, competent, and patient-centered health care services.
Known for her compassion, integrity, and innovation, Atmospera-Walch serves on the boards of numerous organizations including the Philippine Nurses Association of America (PNAA), the PNAA Foundation, Aloha Medical Mission, State of Hawaii Small Business Regulatory Review Board, and is the founding president of the Filipino Nurses Foundation. She has also served as the President of the Filipino Chamber of Commerce of Hawai'i and the Filipino Business Women's Association.
Among her many accolades, Atmospera-Walch was honored in 2013 as the Filipino Entrepreneur of the Year by the Filipino Chamber of Commerce of Hawai'i and as the Business Woman of the Year by the Filipino Business Women's Association. In 2018, she was inducted into the UH Manoa Nursing Alumni Association's Hall of Fame. Dr. Atmospera-Walch is a member of Sigma Theta Tau International, the Honor Society of Nursing.
Atmospera-Walch has been married to Gerhart Walch for more than 40 years. They are the parents of two adult children, attorney & entrepreneur Christeen Walch and radiology technologist Kuhio Walch.
###
UH Manoa Nursing, the Nursing Capital of the Pacific, is the leader in nursing education and research in Hawaii with outreach to Asia and the Pacific Basin. We support the mission of the University of Hawaii at Manoa: to provide an innovative, caring and multicultural environment in which faculty, students and staff work together to generate and transmit knowledge, wisdom, and values to promote quality of life and health for present and future generations. The school offers the BS, master's, and doctoral programs. To reflect Hawaii's unique cultural diversity and heritage, UH Manoa Nursing is committed to increasing the representation of Native Hawaiian and other underserved people in all nursing programs. www.nursing.hawaii.edu
The University of Hawaii Foundation, a nonprofit organization, raises private funds to support the University of Hawaii System. The mission of the University of Hawaii Foundation is to unite donors' passions with the University of Hawaii's aspirations by raising philanthropic support and managing private investments to benefit UH, the people of Hawaii and our future generations. www.uhfoundation.org
Contact
Margot Schrire, AVP of Communications
University of Hawaii Foundation
(808) 376-7818
margot.schrire@uhfoundation.org